Red Borscht "Summer"
by Editorial Staff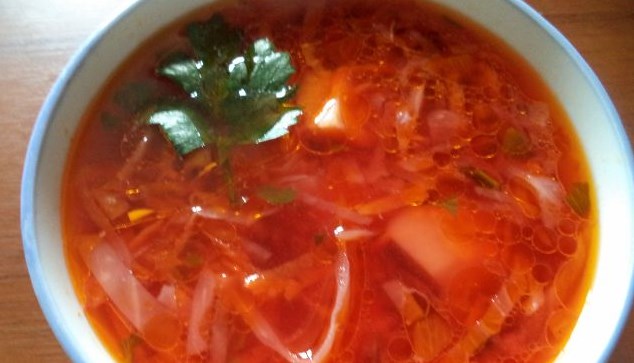 Summer. An abundance of young fresh vegetables. How not to cook delicious, lean, healthy vegetable borscht! So I could not resist. 🙂 And I suggest you cook summer borscht. I love such a cold borsch – salvation in the heat.
Cook: 1 hour
Servings: 10
Ingredients
Beets – 1 pc.
White cabbage – 200-300 g
Tomatoes – 3-4 pcs.
Potatoes – 2-3 pcs.
Carrots – 1 pc.
Bulb onions – 1 pc.
Sweet pepper – 1 pc.
Vegetable oil – 6-8 tbsp
Greens to taste
Sugar – 1-2 teaspoon
Lemon juice – 1-2 teaspoon
Salt to taste
Pepper to taste
Bay leaf – 1 pc.
Garlic – 2-3 cloves
Directions
Take a saucepan with a capacity of 4 liters, pour 2.5 liters of water, put on fire, and bring the water to a boil.

While the water is heating, prepare the vegetables. Peel, wash, and dice the potatoes. Cut the cabbage thinly.
Peel and wash onions and carrots. Dice the onion, grate the carrots on a coarse grater.

Wash the tomatoes, cut the core, remove the skin, grate. Wash the sweet pepper, remove the seed capsule, cut into strips.
Peel, wash and grate beets (or cut into thin strips). Heat a frying pan over a fire, pour in half the vegetable oil. Put the beets in hot oil, pour with lemon juice (then the beets will not lose color). Simmer, stirring occasionally, over medium heat for 5-7 minutes.

The water has boiled, we lower the potatoes. Boil. Simmer over low heat, covered for 10 minutes.
Layout the cabbage. Boil. Layout the stewed beets.
Put onions and carrots into the freed pan, simmer over medium heat, stirring occasionally, for 2-3 minutes. Then add the prepared tomatoes. Simmer, stirring occasionally, for 3-4 minutes.

Put the roast in a saucepan, add bell pepper. Season with salt and pepper, add sugar, and bay leaf. Boil. Cook for 10 minutes.
Wash, finely chop the herbs. Peel the garlic, chop finely with a knife.
Add garlic and herbs to the borscht. Cover and let it brew for 20 minutes. Red borsch "Summer" is ready.
Enjoy your meal!
Also Like
Comments for "Red Borscht "Summer""