Borscht Red Cold
by Editorial Staff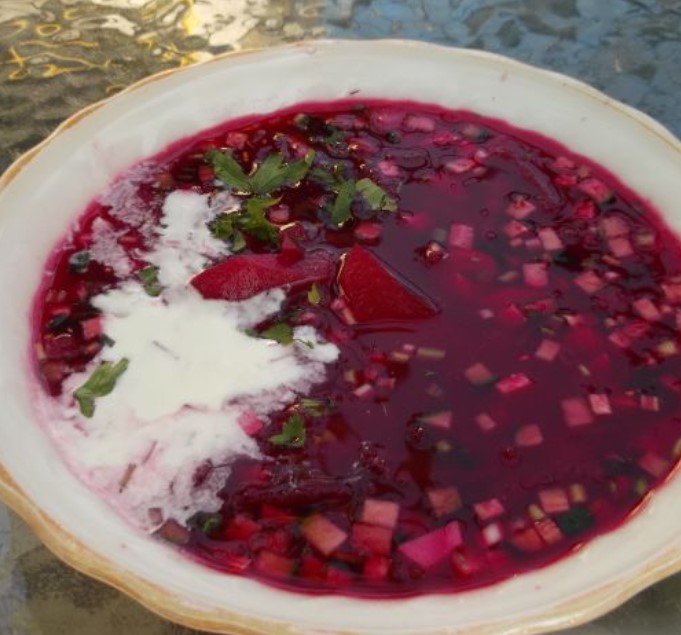 Probably every housewife knows how to cook cold red borscht. This summer beetroot soup cooks quickly and is eaten instantly). Healthy, simple, tasty, economical and appetizing – all this can be said about cold beetroot.
Servings: 4
Ingredients
Beets – 400-500 g (1-3 pcs.)
Potatoes – 200-300 g (2-3 pcs.)
Cucumber – 1 pc.
Eggs – 2 pcs.
Green onions – 1 bunch
Lemon juice or vinegar – 1 tbsp
Sugar – 1 tbsp (to taste)
Salt – 0.5 teaspoon (to taste)
Sour cream – 50 g
Directions
How to cook red cold borscht. Prepare food.
Peel the beets. Large beets can be cut into pieces.
Pour the peeled beets with cold water (1-1.5 l) and boil until almost cooked (20 minutes). (You can keep a slice of raw beets to add to the soup for color.)

Then grate the beets on a coarse grater.
Peel and cut the potatoes into small pieces.
Add chopped potatoes to the beet broth, salt and cook for 15 minutes.
Add the grated beets and bring to a boil. Add sugar, vinegar or lemon juice to taste. Cool and then refrigerate. (To brighten the color of the soup, you can add beet juice squeezed from raw, finely grated beets, or grated raw beets.)
Finely chop the cucumbers.
Boil eggs hard-boiled, cool in cold water, peel and chop finely.
Finely chop the green onion.
Add cucumbers, eggs and green onions to the cold beetroot with potatoes.

When serving, add sour cream to a plate with cold borscht. Bon appetit
Also Like
Comments for "Borscht Red Cold"