Lean Cold Borscht
by Editorial Staff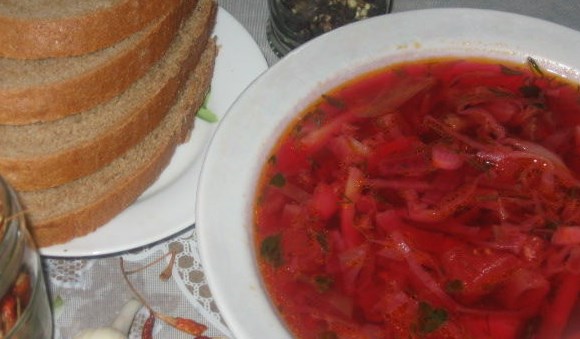 Cold borscht is not the borscht that has been cooked and forgotten to heat up. Cold borscht is cooked in order to eat it with pleasure cold on a hot summer day, to be full and cool.
Ingredients
Beets – 3-4 medium
Potatoes – 0.5 kg of potatoes
Cabbage – half a cabbage
Onions – 3-4 medium
Carrots – 1 large or a bunch of young carrots
Garlic – 2 heads of young garlic
Green beans (asparagus) – 150g
Tomatoes – 1kg (you can take half a tomato and 2-3 tablespoons of tomato sauce)
Greens – a bunch
Salt
Sunflower oil – 50-75g
Bay leaf – 1
Freshly ground black pepper
Directions
Cut carrots, beets, cabbage into strips, beans – into pieces, potatoes – into cubes, finely chop the onion and greens, crush the garlic. First, toss the tomatoes and bay leaf into the boiling water for a few minutes. They took out the tomatoes, allowed them to cool, and filled in the potatoes.

Heat the sunflower oil in a skillet and sauté the onions and carrots. Add the beets.
Peel the tomatoes and cut them into small cubes.
Add tomatoes and tomato sauce to the skillet. Tomato sauce will add more acid to the borscht. Simmer over low heat for 7-10 minutes. The borsch dressing is ready.

The potatoes are ready, it's time to add the cabbage and beans. After 3-5 minutes, add our borsch dressing, salt and let cook for no more than 5 minutes. Add herbs and garlic last. Find and remove the bay leaf. The borscht is ready, but it still needs to cool down, and the delicious cold borscht is from the refrigerator the next day.

If desired, you can pepper cold borscht and add sour cream. Enjoy your meal!
Also Like
Comments for "Lean Cold Borscht"