Fantastic Borscht
by Editorial Staff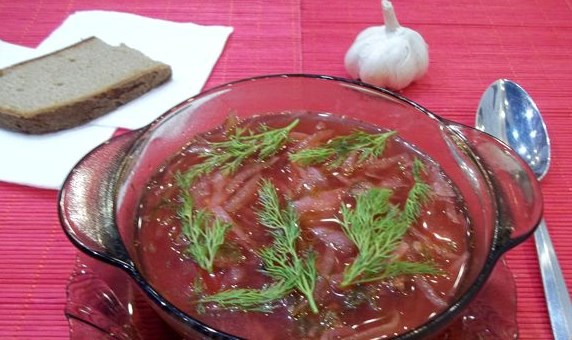 Fantastic borscht! What could be better, especially with fresh bacon and black bread! Purple-red soup is a real Ukrainian dish loved by many. And it is thanks to its rich, bright color that it is known and remembered in all countries.
Ingredients
Meat (pork) – 300 grams
Beets – 1 pc.
Potatoes – 4 pcs.
White cabbage – 200 grams
Bulb onions – 1 pc.
Garlic – 2 cloves
Tomato paste
Bay leaf
Allspice peas
Salt
Black pepper
Greens
Vinegar – 1 teaspoon
Directions
Put the washed and chopped meat, onion into a saucepan and send to cook on the stove.
Peel, wash, and grate the beets or on a food processor. Send the beets to the frying pan, pour in the vinegar, a little water, cover, and simmer over low heat.

Peel the potatoes, wash, cut into cubes, and send to cook with the meat.
Place the spices in a saucepan and place the beets in the saucepan along with the gravy in which they were stewed.
Chop the cabbage and send it to the saucepan.

Add tomato paste. Peel the garlic, wash and pour through a press into a saucepan.

Add greens, cook until tender, and serve.
Also Like
Comments for "Fantastic Borscht"