Lean Macaroons
by Editorial Staff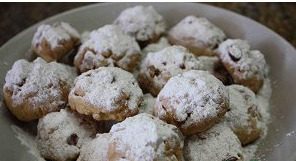 The cookies are delicious !! And at the same time, it is quick and easy to prepare. Ideal for fasting and vegetarians.
Cook: 40 minutes
Servings: 20
Ingredients
Soda (baking) – 1/4 teaspoon.
Water (room temperature) – 2 tbsp
Butter (soft or vegetable margarine) – 100 g
Sugar – 50 g
Vanillin – 1/4 teaspoon
Wheat flour / Flour (2 glasses of 200 ml) – 300 g
Almonds – 60 g
Powdered sugar (for sprinkling) – 3 tbsp
Cardamom (ground, for sprinkling) – 1 teaspoon.
Directions
We will prepare all the ingredients necessary for the dough: flour, sugar, soft butter, water, soda, vanillin, and toasted almonds. The original recipe uses butter instead of vegetable margarine and brandy instead of water.
Coarsely prick almonds. I split each nut into 4 pieces – that's enough. You can use blanched chopped almonds, but I prefer the option used in the recipe: coarsely chopped, unpeeled almonds.
Dissolve soda in water.
Beat the butter and sugar thoroughly. Add vanillin and water with soda dissolved in it. Mix again until smooth.
Gradually add flour. When the dough begins to lag behind the whisk badly, we begin to stir with our hands.
The dough is tight and uneven. But don't worry! The cookies will be crumbly and crispy!
Stir the nuts into the dough. It turns out it's not easy, nuts pop out. We try to stir in all the nuts.
Preheat the oven to 175 * C. While it is heating, grease a baking sheet with butter (vegetable margarine or butter, depending on what you used in the dough) and sculpt round, slightly flattened cookies. You can make it in a different shape, but remember that it is advisable to make the cookies no thinner than 1.5 cm, otherwise, they may turn out to be overdried or burned. And we bake for 20, maximum 30 minutes. The main thing is not to overexpose! These cookies are lightly browned and remain light.
Now we are preparing the sprinkling. The cookies are moderately sweet and appear somewhat unfinished. Therefore, I strongly recommend not to neglect this step. In Greece, these cookies are sprinkled with icing sugar. I mix powdered sugar with ground cardamom for sprinkling. It seems to me that in this version the taste starts to play and becomes more interesting. We spread the finished cookies in layers on a plate, sprinkling each layer with our mixture. Experiment and be guided by your own taste!
Bon Appetit!
Also Like
Comments for "Lean Macaroons"