Red Borscht with Sprats
by Editorial Staff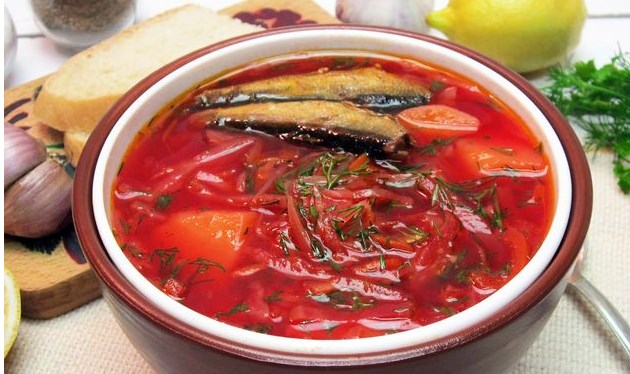 Borscht with fish? Why not! Here is an interesting recipe for fragrant and very tasty borscht with sprats. Borscht turns out to be rich, with an appetizing smoked aroma. Besides, unlike red borscht made with meat broth, such borscht cooks much faster!
Servings: 9
Ingredients
Sprats in oil – 140 g (weight without oil)
White cabbage – 180 g
Potatoes – 400 g
Beets – 160 g
Carrots – 120 g
Sweet pepper – 130 g
Onions – 70 g
Tomato paste – 70 g
Lemon (juice) – 1 slice
Bay leaf – 2 pcs.
Zira – 0.3 teaspoon
Vegetable oil – 30-40 ml
Ground black pepper – to taste
Salt to taste
Fresh dill – 2 branches
Fresh parsley – 2 sprigs
Garlic – 2 cloves
Water – 2 l
Directions
Peel the potatoes and cut them into small pieces. Pour potatoes in a saucepan with 2 liters of water, bring to a boil and cook for 10 minutes.

Peel the onions and carrots and cut the onions into cubes. Rub the carrots on a coarse grater.
Peel the bell peppers and cut them into strips. Peel and cut the beets into strips.
Heat vegetable oil in a frying pan and fry the carrots and onions for about 5 minutes, until light golden brown. Then add bell peppers to the pan. Fry for another 3-5 minutes.

Then put the beets there. Squeeze 1 tablespoon of lemon. (15 ml) juice, add it to the pan, and stir. Fry the beets with carrots, onions, and bell peppers for another 5-7 minutes. Then add the tomato paste. Stir and fry for another 1 minute.
Thinly chop the cabbage. Put the vegetable fry in a pot with potatoes, add cabbage and bay leaf. Bring to a boil and cook over low heat for 10 minutes.
Peel and grind the garlic. Lightly chop the Zira with a knife.
Put sprats, cumin, garlic, black pepper, and salt to taste in the borscht. Also, add 2-3 tablespoon to borscht. spoons of oil from a jar of sprat. Bring to a boil, cook red borscht with sprats for 1-2 minutes over low heat. Then turn off the fire.

Grind parsley and dill, add to the saucepan and cover with a lid. Leave the borsch with sprats to brew for 15 minutes. Borsch with sprats is ready. We pour the borscht into plates and serve it to the table. Bon Appetit!
Also Like
Comments for "Red Borscht with Sprats"