Rich Borscht
by Editorial Staff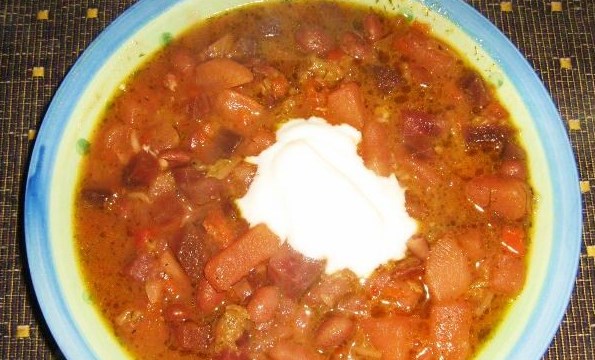 Well, how can you not tell me about your recipe! There are already so many of them on the site, but still, I am showing my recipe for delicious borscht with beans and mushrooms.
Ingredients
For broth:
Chicken – 1/4 pc.
Beef on the bone
Onions – 1/2 pc.
Carrots – 1 pc.
Celery – 1 petiole
Peppercorns – 5 pcs.
Carnation – 3 pcs.
Bay leaf – 1 pc.
Water – 3 l
For borscht:
Boiled beets – 1-2 pcs.
Onions – 1/2 pc.
Carrots – 1 pc.
Bulgarian pepper – 1/2 pc.
Dried mushrooms – 30 g
Cabbage (I have Savoyard) – 200-300 g
Red beans, canned in their own juice – 400 g
Potatoes – 3 pcs.
Directions
Saute the onions and carrots in olive oil.

Add diced boiled beets and a drop of vinegar.
Now add a little bell pepper in pieces, cabbage, and dry mushrooms soaked in advance. Fill with part of the broth (I will not describe how it is cooked, I hope it will not cause difficulties). We check for salt. Simmer for 15 minutes.

Add the red canned beans along with the liquid. Add broth. Add potatoes in cubes. Cook red borsch with beans and mushrooms until potatoes are cooked.

Red borsch with beans and mushrooms is ready.
Enjoy your meal!
Also Like
Comments for "Rich Borscht"