"Rich" Pita Strudel
by Editorial Staff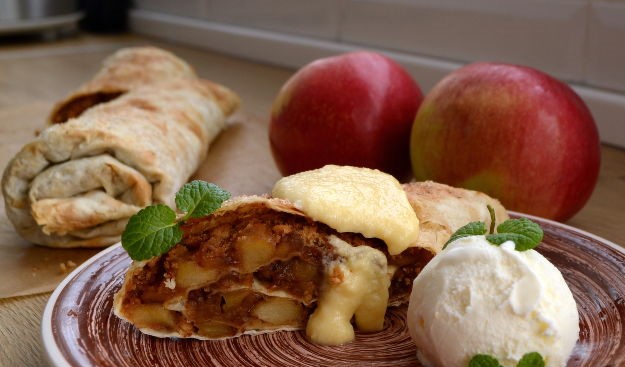 A quick strudel recipe that uses thin, purchased Armenian lavash instead of filo or puff pastry.
Cook: 40
Servings: 8
Ingredients
Armenian thin lavash – 1 pc.
Sweet and sour apples – 800 g
Lemon – 0.5 pcs.
Butter – 75 g
Eggs – 2 pcs.
Biscuit biscuits – 50-60 g
Almond nuts – 50 g
Raisins – 30 g
Sugar – 2 tablespoons + for sprinkling
Vanilla sugar – 1 sachet
Ground cinnamon – 1 teaspoon + for sprinkling
Dark rum – 30 ml
For the sauce
Fat cream – 50 ml
Milk – 50 ml
Eggs – 1 pcs.
Sugar – 1 tablespoon
Cinnamon to taste
Directions
Place all food on your work surface, preparing for the apple and nut strudel.

The most time-consuming part of cooking is preparing the apples by peeling them of seeds and skin and cutting them into small cubes.
Make caramel – melt 2 tbsp sugar in a non-stick skillet.
In half a minute, the sugar caramelizes and turns brown. Add 50 g butter to the sugar and stir.
Add apples, vanilla sugar, cinnamon, and raisins to caramel. Pour the juice of half a lemon into a frying pan, simmer the filling without a lid for 10 minutes.
Grind the almonds in a blender.
Flame the apples (pour the dark rum into the skillet and light it). Remove skillet from heat and add nuts. Stir and cool slightly the filling.
Spread the lavash on a flat surface. Brush it with melted butter and crush it with chopped cookies. A cookie crumb will absorb excess moisture and the dough will not get wet.

Spread the filling evenly over the surface of the pita bread.
Wrap the pita bread in a roll, after wrapping the edges. Transfer gently to a baking sheet with parchment, brush with yolk and sprinkle generously with sugar and cinnamon. Place in a hot oven and bake for 20 minutes at 190 degrees.

While the strudel is baking, prepare the sauce. Separate the whites from the yolk, mix the yolk, 50 ml cream, and 50 ml milk in a saucepan, 1 tbsp sugar and a little cinnamon.
Boil the sauce until thick (about 2 minutes) over low heat.
Remove the strudel from the oven and cool.
Cut with a sharp knife, garnish with powdered sugar.

Serve the apple pita strudel with gravy, mint, and a scoop of ice cream.
Bon Appetit!
Also Like
Comments for ""Rich" Pita Strudel"