Apple Pita Strudel
by Editorial Staff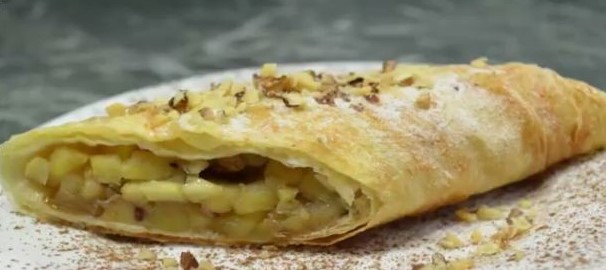 Apple pita strudel is an incredibly simple and no less delicious dessert that you can easily cook for just 25 minutes (of which 15 minutes in the oven). Try it and see for yourself!
Cook: 25 mins
Servings: 8
Ingredients
Thin pita – 1 pc.
Apples – 3-4 pcs.
Raisins – 1-2 tbsp
Walnuts, chopped – 0.5 cups
Butter – 100 g
Sugar – 2.5 tbsp
Egg – 1 pc.
Ground cinnamon – to taste
Powdered sugar (for decoration) – to taste
Directions
Prepare products for apple pita strudel.

Cut the peeled apples into small cubes.
Send butter to a hot frying pan. Fry the apples with two tablespoons of sugar in a pan until golden brown.
Sprinkle apples with vanilla sugar, cinnamon (if desired) and add raisins.

Beat the egg with half a tablespoon of sugar.
Grate butter on a coarse grater.
Spread out a sheet of pita bread, brush with beaten egg and distribute the grated butter evenly. Then put the apples and sprinkle with nuts.
Tuck the edges of the pita bread inward, then roll the pita bread with the filling into a tight roll, spreading the pita bread on top with the egg mixture.
Lubricate each turn of the lavash roll with an egg.

Cover a baking sheet with parchment paper, place a pita roll with apples, raisins and nuts on it, seam down, and grease the top with an egg mixture.
Bake pita strudel with apples in an oven preheated to 180 degrees for 15 minutes, until golden brown.
Apple pita strudel is ready. Sprinkle it with powdered sugar.
Also Like
Comments for "Apple Pita Strudel"