Apple Pita Strudel
by Editorial Staff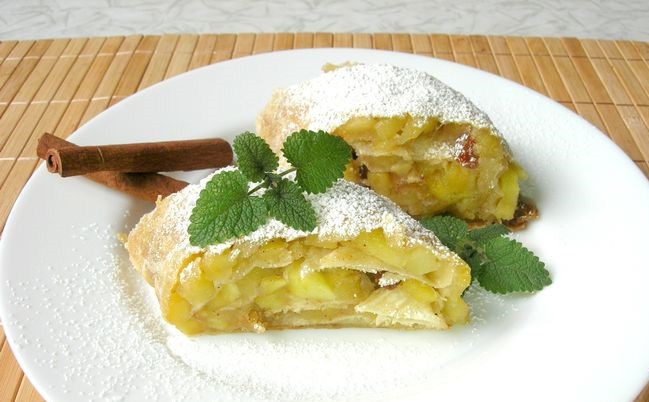 If you want to cook something delicious for tea, but don't want to mess with the dough, then this recipe for apple pita strudel is for you. How many times have I already cooked this strudel, no one believes me that instead of dough it contains lavash. And when the guests are already on the doorstep, and the refrigerator has all the ingredients, then in half an hour you can enjoy a delicious, delicate and aromatic apple strudel with the guests.
Cook: 35 mins
Servings: 4
Ingredients
Thin lavash – 1 pc.
Apples – 700 g
Raisins – 40 g
Sugar – 100 g
Cinnamon – 1 teaspoon
Bread crumbs – 3 tbsp
Butter – 60 g
Egg – 1 pc.
Directions
Preparing the ingredients for the apple pita strudel.
Peel the apples and cut them into cubes.
Simmer apples in butter (30 g) until half cooked, adding sugar and cinnamon.

Add raisins to the apple filling and cool the filling until warm.
Lavash is quickly greased with the remaining melted butter.
Sprinkle with breadcrumbs. We spread the apple filling, stepping back from the edges. Sprinkle with breadcrumbs again on top of the apple filling.
We wrap the pita bread with the filling in a roll, bending the edges of the pita bread.

Lavash roll with apples greases on top with butter and an egg.
We send pita bread with apples to the oven for 20 minutes. We bake pita apple strudel at a temperature of 200 degrees.
Apple pita strudel is ready.
Bon Appetit!
Also Like
Comments for "Apple Pita Strudel"