Yeast Pita
by Editorial Staff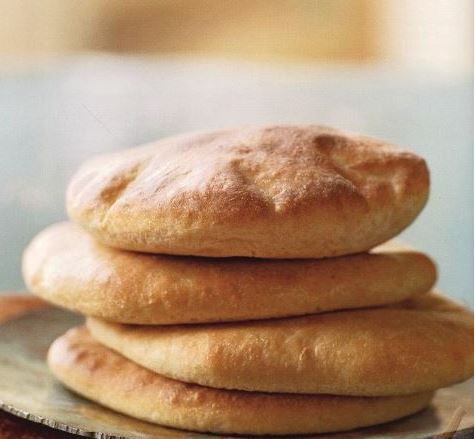 These pits are made from yeast dough with a little yogurt.
Servings: 8
Ingredients
Natural yogurt without additives – 2 tbsp
Whole grain flour – 130 g (about 1 cup)
Sugar – 1 tbsp
Dry fast-acting yeast – 2.25 teaspoon.
Warm water – 2 glasses + 2 tbsp
Bread flour – 280 g (about 2.25 cups)
Extra virgin olive oil – 1 tbsp
Salt – 3/4 teaspoon.
Vegetable oil
Directions
Knead the pita bread dough. Dissolve yeast and sugar in a large bowl in warm water and let stand for 5 minutes at room temperature.
Pour all the bread flour, 3/4 cup whole grain flour, yogurt, olive oil, and salt into a bowl of yeast, stir until smooth.
Place the dough on a floured surface and knead with your hands, adding the whole grain flour, about 10 minutes, until elastic. Place the dough in a large oiled bowl, cover, and leave in a warm place to rise for 45-60 minutes (the dough should double in volume).
Place the wire rack in the oven on the lowest shelf, and turn on the oven itself for preheating to 250 degrees.
Knead the matched dough and divide it into 8 parts. Roll each piece into a circle with a diameter of 14 cm. Grease two baking sheets with vegetable oil. Place 4 circles on each baking sheet. Place one baking sheet in a preheated oven and bake the pita cakes for about 8 minutes, until golden brown. Then place the second baking sheet in the oven and also bake the pita bread for 8 minutes. Cool pits on a wire shelf at room temperature.
Also Like
Comments for "Yeast Pita"