Fake Pita Bread
by Editorial Staff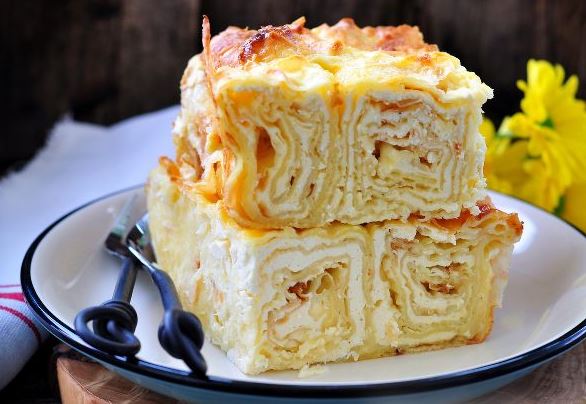 If you love asthma, banitsa, and this kind of pies, then this recipe is definitely for you. A lavash pie with cottage cheese is prepared in a matter of minutes, and the result will greatly surprise you with its taste. I cooked many variations of lazy banitsa and asthma, but this recipe became my favorite.
Cook: 20 minutes
Servings: 4
Ingredients
Lavash thin, large – 2 sheets
Cottage cheese 15-18% – 500-600 g
Large eggs – 3 pcs.
Sour cream – 200 g
Butter – 1 tbsp
Salt to taste
Ground black pepper – to taste
Directions
Add one egg to the curd, 3-4 tablespoon. tablespoons of sour cream, salt, and pepper to taste. Mix the curd filling well.

Lavash (preferably from cornmeal, if found) brush with half of the prepared filling. Do the same with the second sheet of pita bread.
Roll the lavash with cottage cheese. Cut the pita rolls with curd filling into small pieces.
Grease a baking dish with butter. Place the sliced ​​pita rolls in a mold. Add two eggs to the remaining sour cream, salt, and pepper to taste, mix until smooth.

Pour the egg and sour cream mixture over the rolls in the form. Preheat the oven to 180 degrees and bake the banitsa in the oven for about 40 minutes.
Cool the finished "fake" lavash banitsa, cut into portions and serve with coffee, tea, or milk. It's just incredibly delicious!
Also Like
Comments for "Fake Pita Bread"