Lazy Cabbage Rolls in Pita Bread
by Editorial Staff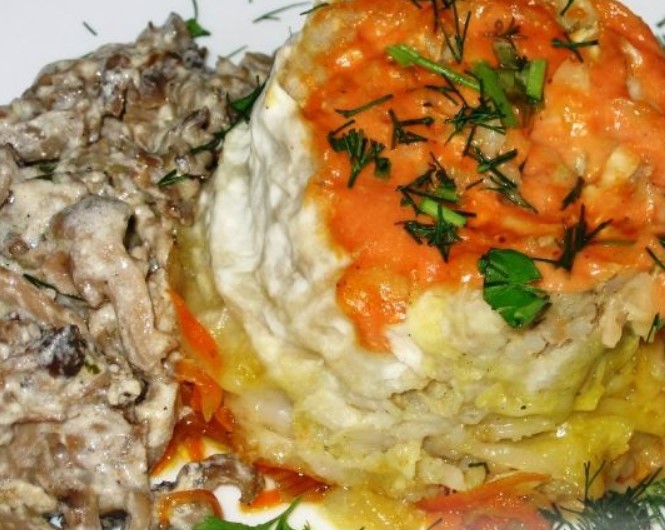 Another worthy use of lavash is lazy cabbage rolls. It turns out very tasty.
Ingredients
Lavash thin, Armenian – 2 pcs.
Dry rice – 1 cup (330 ml)
Mixed minced meat (pork and beef) – 600 g
Cabbage – 1 head of cabbage
Bulb onions – 2 pcs.
Carrots – 1 pc.
Vegetable oil or margarine – 2 tbsp
Sour cream – 200 g
Ketchup or tomato sauce – 150 g
Salt
Ground black pepper
Seasoning for cabbage rolls or other spices
Parsley and dill – 3-4 sprigs
Directions
Rinse the rice and boil for 20 minutes in 3 cups of water. The porridge should turn out to be a little watery.
Mix still hot rice with minced meat, season with salt and pepper, add seasoning. Mix well.
Finely chop the cabbage and rub with salt with your hands to make it more juicy.
Lavash grease with half the minced meat with rice. Sprinkle generously with cabbage on top. Roll the roll. The roll turns out to be plump. You can make rolls thinner from the halves of the pita bread. Do the same with the second lavash. Cut the rolls into 6 cm pieces. Do not press, cutting, but saw with a sharp knife, then the rolls will not be deformed. Chop the onion finely and grate the carrots. Fry them in oil.
Spread the onions and carrots evenly on the baking sheet in which we will bake. Pour in 150ml of water or broth.
Lay the roll pieces vertically on top.

Mix sour cream with ketchup and grease the rolls on top. Cover a baking sheet with foil and put in an oven preheated to 175-180 degrees for 1 hour.
Sprinkle the ready-made lazy cabbage rolls in pita bread with herbs. For cabbage rolls, you can cook mushrooms in sour cream as a sauce.

Enjoy your meal!
Also Like
Comments for "Lazy Cabbage Rolls in Pita Bread"