Lazy Stuffed Cabbage Rolls with Surprise
by Editorial Staff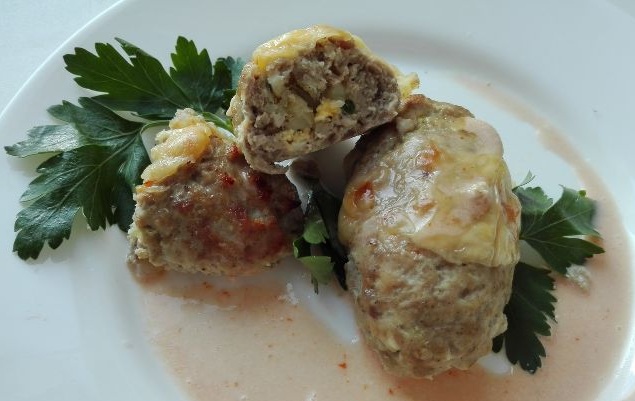 We all know that the "Lazy stuffed cabbage" dish is minced meat cutlets with finely chopped cabbage. I suggest a different recipe … Let's get started?
Cook: 30 min.
Servings: 4
Ingredients
Pork – 250 g
Beef – 250 g
Fresh cabbage – 200 g
Eggs (boiled) – 2 pcs.
Yolk (raw) – 1 pc.
Bulb onions – 2 pcs.
Dill greens – 5 g
Parsley – 5 g
Hard cheese – 30 g
Salt to taste
Ground black pepper – to taste
Directions
Cooking minced meat. Skip pork, beef through a meat grinder. Add finely chopped onion (or mince it too), yolk. Spices – salt, pepper (optional). I cannot give a special recipe for making this minced meat. Everyone has their own preferences. The main thing is to make the minced meat juicy !!!
Finely chop the cabbage, sauté in a pan with water for about 15 minutes. After cooking, fold in a colander to get rid of excess liquid.
Boil eggs and chop finely.
Preparing the filling for lazy cabbage rolls. Combine eggs, cabbage, finely chopped greens. Add salt and pepper.
Let's start forming our lazy cabbage rolls. We put a small amount of minced meat in our hands, make a cake with our hands, put a couple of spoons of the filling in the middle, splice the edges. Let's take a little ride in the hand.

Preheat oven to 180 degrees. If desired, pour a little water on a baking sheet, or grease with oil. Here, whoever loves …
Put a piece of cheese on each cabbage roll, you can also do it with butter.

We put lazy stuffed cabbage rolls in the oven …

The dish "Lazy stuffed cabbage" is ready! I really hope you enjoy this recipe for lazy cabbage rolls. Enjoy your meal!
Also Like
Comments for "Lazy Stuffed Cabbage Rolls with Surprise"