Roll with Surprise
by Editorial Staff
Will add variety to your festive menu, here is an interesting and relatively simple idea for you on how to cook a pork surprise roll. I recommend not to pass by and take note of the recipe!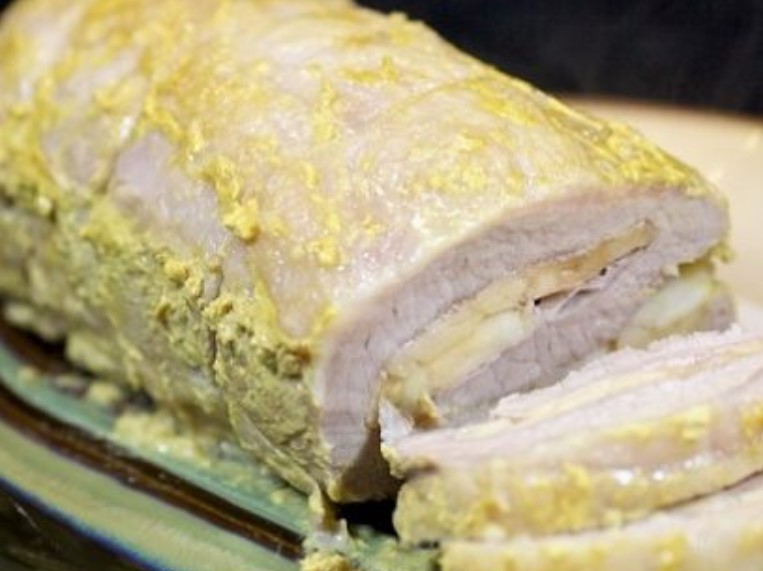 Cook: 1 hour 40 mins
Servings: 6-8
Ingredients
Pork Chop – 1.5 Kilograms
Apple – 2 Pieces
Salt – To taste
Mustard – To taste
Directions
These are all the ingredients you need to feed and surprise your guests and loved ones at the same time.

Wash the pork, dry and gently unfold, cutting the meat with a sharp knife. You should get a rectangular solid layer of meat.
Salt it to taste, you can add some spices.
Beat the meat lightly with a hammer.
Wash the apples, remove the core and skin and cut into thin slices.
Place some of the apples in the center of the meat block.
Wrap one side of the pork first (apples should be covered).
And lay out the rest of the apples.
Cover with the second slice of meat. Press firmly so that the roll holds its shape well.For reliability, you can tie it with a thread. Place the roll in an ovenproof dish, covered with foil.

Lubricate it with mustard on top.
Wrap the foil and place the mold in an oven preheated to 180 degrees for about 1.5 hours.
This is such a beauty! Serve the finished roll with a side dish or vegetables.
Bon Appetit!
Also Like
Comments for "Roll with Surprise"