Lazy Stuffed Cabbage Rolls (6 Servings)
by Editorial Staff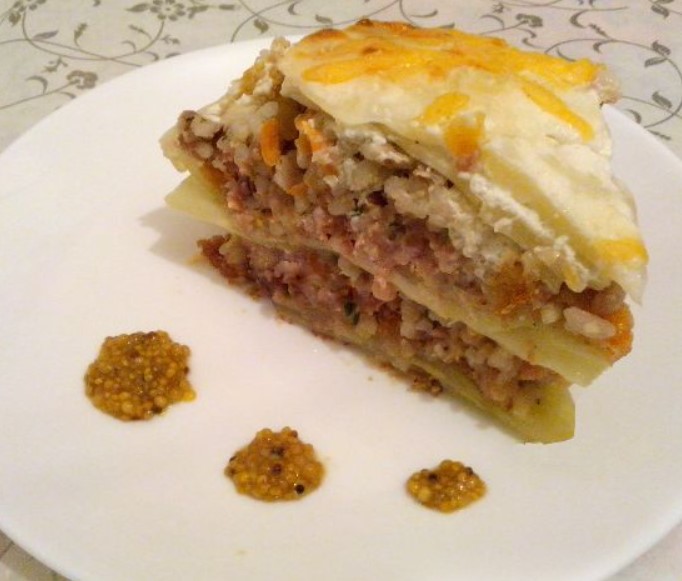 Lazy cabbage rolls are a recipe that does not require wrapping minced meat in cabbage leaves. Lazy stuffed cabbage rolls are prepared in the oven, like a casserole or pie.
Cook: 2 hour
Servings: 6
Ingredients
Meat or minced meat – 500 g
Raw rice – 1 glass
Carrots – 2-3 pcs.
Parsley root – 1 pc.
Bulb onions – 2 pcs.
Vegetable oil – 50 g or fat – 50 g
Dill and parsley greens – 6 sprigs
Salt – 0.5 teaspoon
Ground black pepper – 0.5 teaspoon
White cabbage (medium-sized leaves) – 8-10 pcs.
Butter – 3 tbsp
Bread crumbs – 2 tbsp
Eggs – 2 pcs.
Sour cream or mayonnaise – 200 g
Hard cheese – 100 g
Directions
Ingredients for making lazy cabbage rolls.
Pass pork, beef or mixed meat through a meat grinder (if the meat is lean, add a little of any fat). I use cooked ground pork and ground beef.

Boil rice. To do this, rinse the rice until the water becomes clear. Pour rice with cold water (4 cups), stir, bring to a boil. Salt (1 pinch). Cook for 10 minutes over medium heat. Throw in a colander, rinse with
Wash carrots, peel, grate on a coarse grater.
Peel the onion. Cut in small pieces.
Wash parsley root, peel, grate.
Preheat a frying pan. Add vegetable oil. Fry carrots, parsley and onions in vegetable oil for 5-7 minutes, stirring occasionally, over medium heat.
Wash the herbs. Cut in small pieces.
Put the minced meat in a saucepan. Add rice pre-boiled in a large amount of water, fried carrots, parsley and onions, finely chopped greens, salt, pepper. Mix everything thoroughly.

Wash the cabbage. Separate the leaves.
Cut off the thickened part of the cabbage leaves To make the finished cabbage more tender, cabbage leaves, especially of winter varieties, can be boiled with boiling water.
Grease a form with high sides (preferably round) with butter (1 tbsp), sprinkle with breadcrumbs.
Beat eggs.
Take 3 cabbage leaves. Moisten each cabbage leaf in an egg.
Place the cabbage leaves on the bottom of the mold.
Then put the minced meat (half of the minced meat).
Cover the minced meat with cabbage leaves (3 pcs) dipped in an egg.
Put a layer of minced meat again. (The remaining half of the minced meat)
Cover with a third layer of cabbage.
Top stuffed cabbage lazy pour sour cream or mayonnaise.
Preheat oven to 200 degrees. Grate the cheese on a coarse grater.
Melt the remaining butter.
Sprinkle lazy stuffed cabbage rolls with grated cheese and sprinkle with butter.

Put lazy cabbage rolls in the oven and bake at 180-200 ° C until golden brown. (60 minutes).
Serve lazy cabbage rolls to the table, cutting into pieces like a pie.
Bon appetit!
Also Like
Comments for "Lazy Stuffed Cabbage Rolls (6 Servings)"