Lazy Peking Cabbage Rolls
by Editorial Staff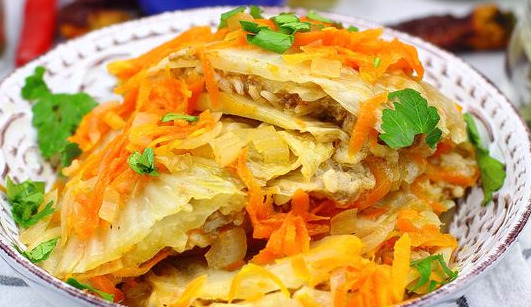 I love different stuffed cabbage, the main thing is that there are cabbage and minced meat. You can add any cereal, it will still turn out tasty and satisfying. I propose to cook the laziest cabbage rolls. In this recipe, you do not need to fry anything, steamed cabbage leaves, everything is very simple – you collected cabbage "pyramids" with minced meat, put it in a saucepan, and stew it.
Cook: 1 hour 30 minutes
Servings: 6
Ingredients
Minced meat – 800 g
Peking cabbage – 800 g
Rice – 70 g (5 tablespoons)
Onions – 400 g
Carrots – 400 g
Tomato paste – 30 g
Bay leaf – 2 pcs.
Salt – 2/3 teaspoon (or to taste)
Ground black pepper – 1/4 teaspoon (or to taste)
Vegetable oil – 2-3 tbsp
Fresh herbs for serving (optional) – to taste
Water – 500 ml
Directions
Peel all the onions. Grind 100 g of onions from the total mass on a grater or pass through a meat grinder. Add to minced meat and mix well.
Rinse the rice several times under running water and add to the minced meat. Season with salt (1/3 teaspoon) and black pepper (1/8 teaspoon). Mix well.
Rinse the Chinese cabbage and pat dry with a paper towel. Cut the head of cabbage into three equal pieces across.
Separate the leaves from each other. In each cabbage third, there will be a middle with tightly fitting leaves that are no longer useful for filling.
Put some minced meat on each leaf and distribute it over the entire leaf. Put a cabbage leaf on top and mince again. Cover with a cabbage leaf. It turns out blanks of three cabbage leaves with a double layer of minced meat.
Cut the remaining onion into cubes. Peel the carrots and grate on a coarse grater.
A deep frying pan, a saucepan with a thick bottom, or a cauldron, as in my case, is suitable for stewing. Put half of the carrots and onions on the bottom of the cauldron. Pour in vegetable oil.
Layout the cabbage blanks in a vertical position, starting from the walls of the cauldron to the center.
In the center, add the remaining center of the lower cabbage slice, cut up.
Spread the other half of the carrots and onions on top.
To pour, combine tomato paste with water (500 ml), add the remaining salt and ground black pepper. Stir.
Pour the resulting sauce into the cauldron. Add bay leaves and heat over medium heat. As soon as the liquid starts bubbling, turn on a low heat and simmer for 60-70 minutes.
Lazy cabbage rolls are ready.
Serve the dish immediately to the table, adding fresh herbs if desired. (I laid out three sheets of paper with an interlayer right on the plate, as I filled in.) Lazy cabbage rolls are tasty both on their own and with sour cream.
Enjoy your meal!
Also Like
Comments for "Lazy Peking Cabbage Rolls"