"Lazy" Cabbage Rolls
by Editorial Staff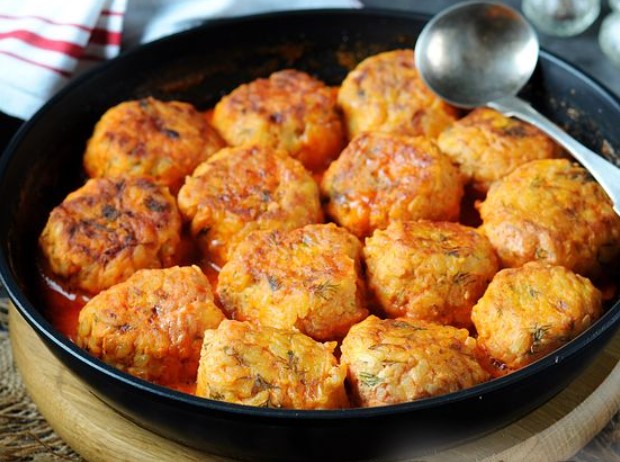 Do you like cabbage rolls, but don't want to mess around in the kitchen for a long time? Try to cook cabbage rolls – it will be simple and delicious.
Cook: 1 hour
Servings: 4
Ingredients
Minced meat (any) – 400 g
Rice – 1 glass
White cabbage – 200 g
Carrots – 1 pc.
Bulb onions – 1 pc.
Fresh greens – a few twigs
Egg – 1 pc.
Vegetable oil – 2-3 tbsp
Salt to taste
Ground black pepper – to taste
Tomato juice – 1 glass
Sour cream – 3-4 tbsp
Sugar (optional) – to taste
Directions
Prepare foods for lazy cabbage rolls. I took minced chicken, but you can use any minced meat.
Wash and dry the vegetables. Peel the onions and carrots.

Heat the vegetable oil in a frying pan, fry the diced onion and grated carrots in it.
When the onions and carrots are tender, add finely chopped cabbage to them and cook the vegetables for another 3-4 minutes.
At this time, rinse the rice, cover with water in a 1: 1 ratio and cook the rice over high heat until the water evaporates, until half cooked.
Place rice and vegetables in a comfortable deep bowl and let cool.
Add chopped herbs, minced meat, salt and pepper to taste. Stir until smooth.
Add the egg, knead the minced meat with rice and cabbage well again.

Form the minced meat into balls of the same size with wet hands. Place the lazy cabbage rolls in a skillet and fry in a minimum amount of vegetable oil until golden brown on all sides.
Mix tomato juice with sour cream, pour over lazy cabbage rolls with this mixture, add a little more salt and pepper to taste. When the gravy boils, reduce the heat, cover and simmer the lazy cabbage rolls in tomato-sour cream sauce for about 40 minutes until the rice inside is completely cooked. If you find the gravy a little sour, add a little sugar to balance the flavor.
Serve lazy cabbage rolls in the same skillet in which they cooked.

Enjoy your meal!
Also Like
Comments for ""Lazy" Cabbage Rolls"