Peking Cabbage Rolls with Tomatoes and Cheese
by Editorial Staff
If you like vegetable dishes, then I advise you to make Peking cabbage rolls stuffed with tomatoes and hard cheese. Cabbage rolls are prepared quite simply and quickly, but they turn out to be very tasty and satisfying.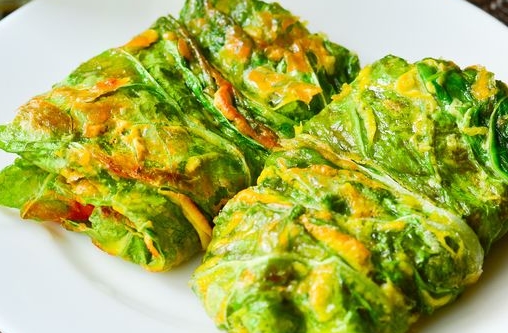 Ingredients
Chinese cabbage – 2 leaves
Hard cheese – 30 g
Tomato – 0.5 pcs.
Egg – 1 pc.
Flour – 1 tbsp
Salt – 2 g
Vegetable oil – 20 ml
Directions
Combine egg, flour, salt in a deep plate.

Beat with a fork for 10-15 seconds.
Trim the tight edge off the Chinese cabbage leaves. Dip the cabbage leaves on both sides in the batter.
Wash the tomato, cut into slices. Cut the cheese into pieces.
Heat vegetable oil in a skillet. Gently place the cabbage leaves in the batter in a skillet and fry for 20-30 seconds over medium heat. Then turn over to the other side and fry the cabbage on the other side, for the same amount of time.
Now place the sautéed cabbage leaves on the board. On each cabbage leaf, place 2 slices of tomato and 2 slices of hard cheese.

Roll the stuffed cabbage leaves into a roll. If you want, you can put the cabbage rolls with tomatoes and cheese in a skillet and fry them a little to melt the cheese inside.
These are the Peking cabbage rolls with tomatoes and cheese!
Also Like
Comments for "Peking Cabbage Rolls with Tomatoes and Cheese"