Peking Cabbage and Meat Pies
by Editorial Staff
Recipe for making yeast dough pies in the oven. Peking cabbage and meat yeast pies are delicious, soft and aromatic.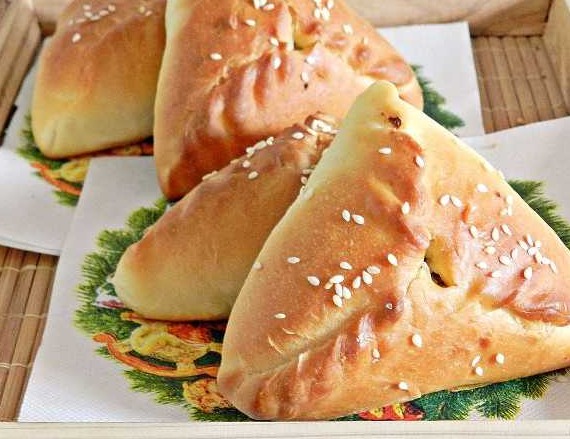 Servings: 12
Cook: 2 hours 20 minutes
Ingredients
For yeast dough:
Egg – 1 pc.
Milk – 250 ml
Sugar – 2 tbsp
Salt – 0.5 teaspoon
Vegetable oil – 70 ml
Flour – 500 g
Dry fast-acting yeast – 1.5 teaspoon
For filling:
Peking cabbage – 300 g
Minced meat – 300 g
Bulb onions – 1 pc.
Fresh parsley – 3-4 sprigs
Vegetable oil – for frying
Ground black pepper – to taste
Salt to taste
To grease the pies:
For sprinkling the pies:
Sesame (optional) – 1 tbsp
Directions
Prepare a dough for yeast dough. Dissolve 1 teaspoon of sugar in 100 ml of milk, add yeast and leave in a warm place.

After 10 minutes, the yeast will rise with a cap. The dough is ready for the dough.
Beat the egg with the remaining sugar and salt.
Pour in milk and vegetable oil, mix.
Pour in the dough, mix.
Gradually adding flour, knead the dough. First, whisk in a bowl.
Then transfer the dough to a board and knead with your hands. The yeast dough for pies should become soft, elastic, not stick to your hands and the surface of the board or table.
Transfer the dough to a bowl, cover with a dry clean towel and remove to come to a warm place for 1 hour.
While the dough is coming up, prepare the filling for the pies. Dice the onion.
Chop Chinese cabbage and parsley leaves.
Fry the onions in a skillet until golden brown.
Put the minced meat in a frying pan and fry with the onion for 10-15 minutes. Season with salt and pepper.
Add cabbage and parsley.
Stir and cook together for 5-7 minutes over medium heat. Cool the finished filling.
An hour later, the dough came up, increased in size at least twice. Knead the dough and leave for another 30 minutes.
Put the finished dough on a cutting board or on the table.
Divide the dough into equal parts according to the number of patties.
Knead the dough with your hands into a cake. Put the filling in the center of the cake.

Form pies like echpochmak. Pinch the edges of the dough, leaving a small hole for steam to escape.
Put the Peking cabbage and minced meat pies on a baking sheet greased with vegetable oil. Leave the pies on a baking sheet for 15-20 minutes.
Grease the Peking cabbage and meat pies with milk, sprinkle with sesame seeds (optional). Place the baking sheet in an oven heated to 190 degrees for 20 minutes.
Transfer the finished hot pies to the wire rack and cool.
Lush and delicious Peking cabbage and meat pies are ready. Bon Appetit.
Also Like
Comments for "Peking Cabbage and Meat Pies"