Pies with Cabbage and Egg
by Editorial Staff
Delicate, fragrant, airy pies with cabbage filling.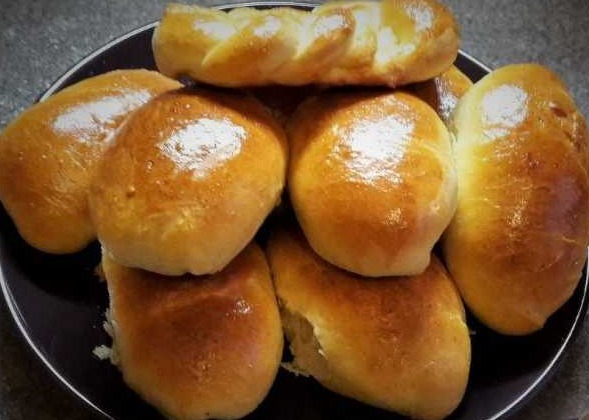 Cook: 3 hours
Ingredients
For the dough:
Wheat flour – 1 kg
Milk – 0.5 l
Sugar – 150 g
Salt – 1 teaspoon
Eggs – 4 pcs.
Dry yeast – 20 g
Unrefined sunflower oil – 220 ml
For filling:
Cabbage – 1 small fork
Eggs – 4 pcs.
Salt to taste
Pepper to taste
For golden brown:
Directions
Pour half a glass of warmed milk into a bowl, add dry yeast and a tablespoon of sugar into it. Stir, cover with a lid or a towel and leave the future dough in a warm place for 15-20 minutes.
Beat eggs (room temperature) in a deep bowl, add the remaining warmed milk to them and pour in the approached liquid dough. Stir with a whisk.
Add salt, the remaining sugar and pour in unrefined sunflower oil, mix thoroughly.
Sift the flour through a fine sieve, add in parts and knead the dough. As a result, you should get a dough that keeps the shape of a soft ball, not dense and easily lagging behind the hands.
Put the dough in a deep bowl, cover with a lid or a towel and leave for 1-1.5 hours in a warm place.
After 1-1.5 hours, knead the risen dough and leave it in a warm place for 40 minutes to come up a second time.
Chop the cabbage, put it in a preheated pan, season with salt, pepper, cover and simmer over low heat for 20-35 minutes (it all depends on the "youth" of the cabbage), add a little water if necessary.
Hard-boiled eggs, peel and cut into small cubes.
Combine eggs with cabbage and let cool slightly. (If desired, you can not boil the eggs, but add them raw to the cabbage 10 minutes before it is ready and mix thoroughly).
After the dough and filling are ready, we proceed to sculpting the pies. Put the finished pies with cabbage and eggs on a baking sheet, grease with egg yolk and let stand for 20-30 minutes. Then put the pies with cabbage in an oven preheated to 180 degrees for 35-40 minutes.
Bon Appetit!
Also Like
Comments for "Pies with Cabbage and Egg"