Sandwich With Cabbage and Eggs
by Editorial Staff
A great breakfast or a snack from simple and affordable products – crispy brown bread and a juicy appetizing filling of fried cabbage with eggs. Not too heavy, but satisfying enough, the kale sandwich cooks quickly and is delicious.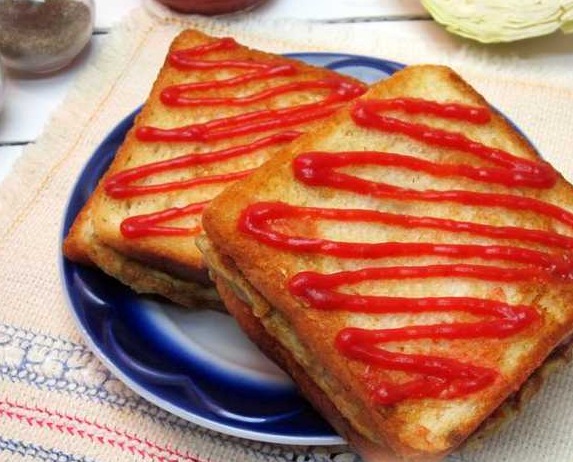 Servings: 3
Ingredients
White cabbage – 220 g
Toast bread – 6 slices
Eggs – 3 pcs.
Ketchup – 3-5 tbsp
Salt to taste
Ground black pepper – to taste
Dried rosemary – 0.5 teaspoon
Dried mint – 0.5 teaspoon
Butter (for frying) – 70-100 g
Directions
Break the eggs into a bowl, add salt, black pepper and aromatic herbs (dried mint and rosemary or Provence).
Mix with a whisk.

We chop the cabbage into strips, which we additionally chop across.
We send finely chopped cabbage to the egg mixture.
We mix.
Melt some butter in a frying pan.
Put the bread in a frying pan and fry over medium heat for about 1 minute on each side, until golden brown.
Add a little butter as needed during frying. Then transfer the toasted bread slices to a separate plate. Thus, we fry all the slices of bread.
In the same pan, adding more butter if necessary, spread the third part of the cabbage and egg mass. With a spatula, give it a shape roughly similar to a slice of bread.
Reduce heat and fry the cabbage with an egg on both sides for about 3-4 minutes, until golden brown. The fire should be low so that the cabbage has time to become soft.
So we fry the rest of the
Add butter if necessary.

Putting together a sandwich. We spread a slice of toasted bread.
Put the cabbage filling on top of a slice of bread.
Pour the filling with ketchup in zigzag movements.
Cover with a second slice of bread on top.
We also put ketchup on top of the sandwich.

A rosy and very satisfying sandwich with cabbage and egg is ready.
Bon Appetit!
Also Like
Comments for "Sandwich With Cabbage and Eggs"