Herring and Egg Sandwiches
by Editorial Staff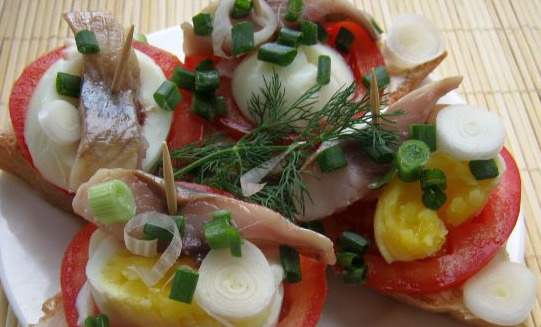 Very simple, tasty, and economical sandwiches. Herring sandwiches are a great appetizer and a good dinner. All products can be stacked or stacked in long colored stripes, feel free to experiment.
Cook: 10 minutes
Servings: 8
Ingredients
Bread – 700 g
Mustard – 0.5 teaspoon
Herring – 0.5-1 pcs.
Chicken egg – 1-2 pcs.
Tomato – 1-2 pcs.
or cucumber – 1-2 pcs.
Sour cream – 1 tbsp
Green onions – to taste
How to make herring sandwiches:
Directions
Boil chicken eggs hard-boiled. Refrigerate and clean. The eggs can be cut into cubes or cut into rings.
Remove the skin from the herring. Cut off the head, remove the intestines, separate the ridge from the fillet.
Peel the fillet and cut it into slices about 1 cm thick.

Wash and chop green onions.
Wash tomatoes (or cucumbers), cut into rings.
Mix thoroughly sour cream with mustard. Cut the bread into small pieces. For herring sandwiches, a thin loaf is ideal. Spread the slices of bread with sauce.

Put the tomato (or cucumber) on the prepared slices of bread, the egg on top, and then the herring. Decorate the sandwiches with green onions and herbs (optional). Herring and egg sandwiches are ready.
Bon Appetit!
Also Like
Comments for "Herring and Egg Sandwiches"