Moldavian Pies with Cabbage, Onions and Herbs
by Editorial Staff
A simple recipe for a fast day – delicious and hearty pies made from unleavened dough with cabbage. We have such lean pies just fly off the table.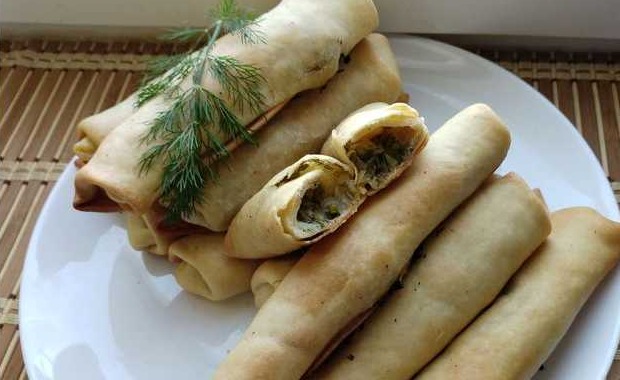 Servings: 4
Cook: 1 hour 20 minutes
Ingredients
For dough (glass volume – 200 ml):
Flour – 2 cups
Vegetable oil – 0.5 cups
Water – 0.5 cups
Salt – 0.5 teaspoon (to taste)
For filling:
White cabbage – 1 head of cabbage (about 1 kg)
Bulb onions – 2 pcs.
Dill greens – 1 bunch
Vegetable oil – 3-4 tbsp (how much will it take)
Salt – 1 teaspoon (to taste)
Ground black pepper – on the tip of a knife
To grease the dough and baking sheet:
Directions
Finely chop the cabbage.
Peel the onion and chop finely.
Put the cabbage in a cauldron, pour 2 tablespoon. tablespoons of vegetable oil.
Cover the cauldron with a lid and simmer the cabbage over low heat, stirring occasionally, until the cabbage is soft (about 20 minutes).

Preheat a frying pan, add 1-2 tablespoon. tablespoons of vegetable oil. Fry the onions over medium heat, stirring occasionally, until golden brown (1-2 minutes).
Rinse and grind greens.
Sift flour.
Add vegetable oil, salt and water.
Stir with a spoon.
Knead a soft dough.
Cover the dough with a towel and leave for 20 minutes.
Add greens and fried onions to the finished cabbage. Season with salt and pepper to taste. Mix.
Preheat the oven to 180 degrees.
Divide the dough into 12 parts.
Roll a piece of dough into a thin layer. Put 1.5 tablespoon on the edge of the rolled dough. spoons of cabbage with onions and herbs. Roll the filled dough into a tube, turning the edges inward.
Do this with the whole test.

Grease a baking sheet with vegetable oil. Place the rolls of unleavened dough with cabbage on a baking sheet.
Grease the surface of the dough with vegetable oil. Can also be brushed with strong sweet tea.
Place the baking sheet in the preheated oven on the middle shelf.
Bake Moldovan pies with cabbage until tender (30-40 minutes).
Bon Appetit!
Also Like
Comments for "Moldavian Pies with Cabbage, Onions and Herbs"