Fried Lazy Pies with Green Onions
by Editorial Staff
I know 1000 recipes for different pies, I repeat something very often! Today I'm sharing a Chinese recipe for lazy green onion patties! Budgetary and very tasty, they are small, but there are a lot of them! Cook for health!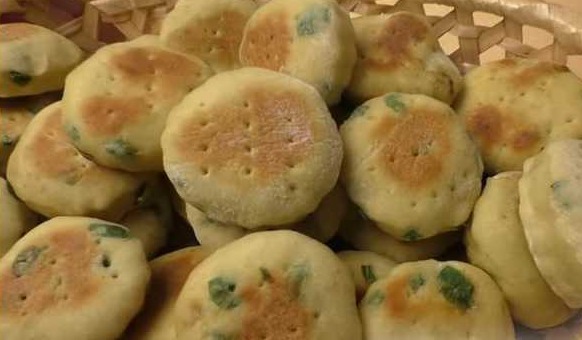 Ingredients
Eggs – 2 pcs.
Dry yeast – 1 teaspoon without a slide
Soda – 1 teaspoon without a slide
Flour – 200 g (1⅓ cup, 250 ml) + for underfloor heating
Green onions – a small bunch
Vegetable oil – 30 ml
Salt – 1 teaspoon without a slide
Butter (for frying) – a small piece
Directions
First, combine eggs, soda, salt, yeast and vegetable oil.
We mix everything.
Add finely chopped green onions and leave for 5-10 minutes – let the yeast disperse.
Introduce flour into this liquid part and knead the soft dough.

The dough turns out to be fragrant, pleasant in color and a little sticky (focus on the size of the eggs; if the dough sticks strongly, add a couple of tablespoons of flour).
We give the finished dough a rest and distance a little under the film (30 minutes).
For convenience, sprinkle the table with flour and roll out the dough into a layer 4-5 mm thick.
We give the dough a little rest – then, when forming the pies, it will not shrink.
By cutting (small, mine is 4.5 cm in diameter) we form blanks for pies.
Be sure to pierce all the pies with a fork so that they remain even when frying.

Melt a small piece of butter in a frying pan.
We fry the pies in a pan under the lid for a few minutes on each side, the heating is minimal.

Of course, they are very different from the usual pies, both in size and in the presence of filling. But they're cool, easy to make, and delicious! Fried lazy green onion pies fly away like seeds!
Bon Appetit!
Also Like
Comments for "Fried Lazy Pies with Green Onions"