Fried Pies with Potatoes and Dill
by Editorial Staff
These are delicious fried pies with potatoes and dill! They will especially be liked by those who like it when pies have thin dough and a lot of filling. Kefir dough with baking powder, very convenient to work with, the formation of pies is quick and easy!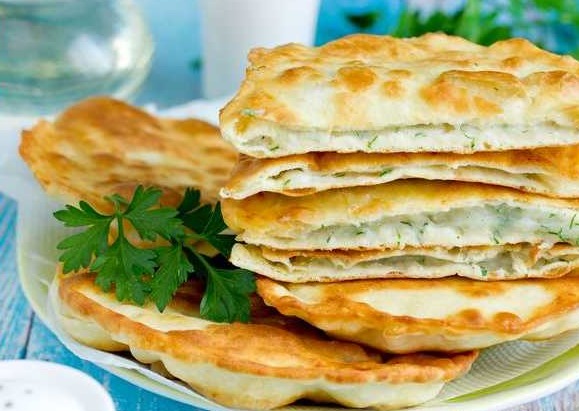 Servings: 3
Cook: 1 hour 10 minutes
Ingredients
For the dough:
Kefir – 250 ml
Egg – 1 pc.
Baking powder – 1 teaspoon
Salt – 1 teaspoon without a slide
Sunflower oil – 2 tbsp
Flour – 300-350 g
For filling:
Potatoes – 600 g
Water – 750 ml
Dill – fresh 0.5 bunch
Salt to taste
Ground black pepper – to taste
Sunflower oil (for frying) – 100 ml
Directions
Prepare the required ingredients. Instead of potatoes, you can take any other filling of your choice: cottage cheese with herbs, minced meat, egg with green onions.

First you need to put the potatoes to boil, which we later use as a filling. To do this, peel the potatoes, rinse, cut each tuber into small slices. Transfer the potatoes to a saucepan, cover with water just to cover it, bring to a boil over high heat, season with salt and cook until tender.
During this time, prepare the pie dough. Combine room temperature kefir, egg, salt, baking powder, sunflower oil in a bowl. Whisk these ingredients together.
Gradually adding flour, knead the dough.
Gather the dough into a ball, cover with plastic wrap and leave for 20-30 minutes.
When the potatoes are cooked, drain the water from it, mash.
Add black pepper, chopped dill, mix – the potato filling for the pies is ready. Leave the mashed potatoes to cool completely.
When the filling has cooled down and the dough has settled down, start forming the pies. Roll out the dough into a thin layer on a floured table.
Cut out blanks from the dough with a round mold.
Take two circles of dough and roll them into the thinnest oval blanks about the size of your palm, maybe a little wider.
Put two tablespoons of potato filling on one such cake, spread over the entire surface of the dough, stepping back slightly from the edges.

Cover the filled dough piece with the second rolled dough piece and pin the edges together.
Fry the pie over medium heat in hot sunflower oil until golden brown. While one patty is fried, prepare the second, and so on.
In total, about 14 pies are obtained, thin, but wide enough.

Fried pies with potatoes and dill are ready. Serve them hot or warm with sour cream!
Bon Appetit!
Also Like
Comments for "Fried Pies with Potatoes and Dill"