Fried Pies with Apricots
by Editorial Staff
How I love fried pies with fruits and berries! My favorite recipe is apricot pies.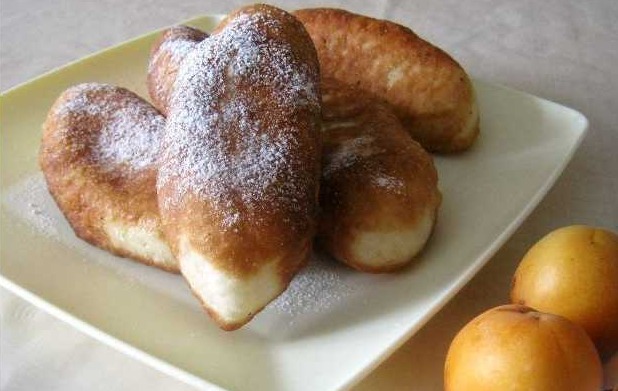 Servings: 8
Cook: 1 hour
Ingredients
For the dough:
Flour – 5 glasses
Dry yeast – 11 g
Sugar – 1 tbsp
Salt – 1 teaspoon
Vegetable oil – 3 tbsp
Warm water – 2 glasses
For filling:
Apricots – 500 g
Sugar to taste
For frying:
For filing (optional):
Powdered sugar – to taste
Directions
Sift flour and mix with dry yeast.
Add salt, sugar, vegetable oil.
Then add warm water and knead into a soft dough.

Cover the dough with a towel and let stand for 20 minutes.
Meanwhile, wash the apricots.
Cut the apricots into pieces and sprinkle with sugar.
When the dough has come, divide it into 4 pieces. Roll each part into a bundle. Cut the tourniquet into pieces and roll them into balls the size of a chicken egg.
Roll out the dough ball with a rolling pin into a 0.5 cm thick circle. Put the filling. Pinch the edges carefully and shape into a patty.

Let the pies rise for 10-20 minutes.
Preheat the cauldron. Pour vegetable oil into it. Put the pies in hot oil, seam side down. Fry the apricot pies over medium heat until golden brown on both sides. Put the pies on a napkin to absorb excess fat.

Fried pies with apricots are ready. You can sprinkle them with powdered sugar.
Bon Appetit!
Also Like
Comments for "Fried Pies with Apricots"