Open Pies with Chicken and Potatoes
by Editorial Staff
Chicken and potato open pies are the perfect snack during the day or a great addition to your first course. The pies are quite satisfying, they have a thin layer of yeast-free dough with sour cream and a lot of delicious filling.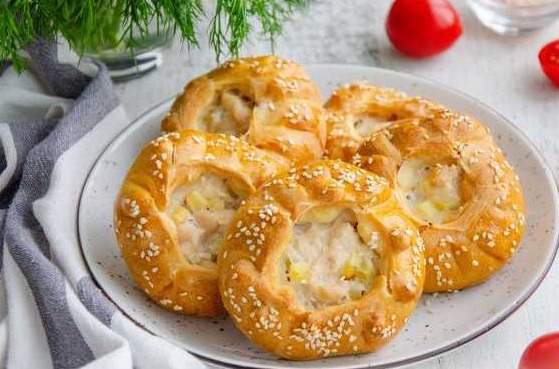 Servings: 12
Cook: 1 hour 5 minutes
Ingredients
For the dough:
Sour cream – 200 g
Butter – 100 g
Flour ~ 400 g (3 cups, 200 ml)
Soda – 0.5 teaspoon
Salt – 0.5 teaspoon
For filling:
Chicken fillet – 350 g
Onions (small) – 2 pcs.
Potatoes (small) – 2-3 pcs.
Vegetable oil – 2 tbsp
Salt to taste
Ground black pepper – to taste
Additionally:
Egg or yolk (for greasing the pies) – 1 pc.
White sesame (for sprinkling pies, optional) – 1 tbsp
Vegetable oil – for greasing the baking sheet (optional)
Directions
Optionally, instead of chicken fillet, you can use meat from chicken thighs.
Prepare the dough: combine sour cream, salt and soda in a bowl. Stir.
Melt the butter and cool slightly. Pour butter into a bowl with sour cream. Stir.
Add flour in small portions and knead the dough. The thickness of the sour cream is different, and you may need more or less flour – focus on the consistency of the dough.

The finished dough should be moderately soft and non-sticky. You do not need to knead such a dough for a long time.
Cover the bowl of dough with a towel and set it aside.
Prepare the filling: peel and wash the potatoes and onions. Chop the onion and potatoes into small cubes and the chicken fillet into medium cubes. Combine all ingredients in a mixing container.
Add vegetable oil, salt and pepper. You can also add the spices you like to add to the chicken if desired. Stir.
Preheat oven to 180 ° C.
Line a baking sheet with baking paper or grease with a thin layer of vegetable oil.
Shape the patties.
Put the dough on the table and divide into equal portions (I got 12 pieces, 50 grams each).
Roll each portion of the dough into a ball.
Roll the dough ball into a circle about 3 mm thick. Place two tablespoons of the filling in the center.
Fold the edges of the dough upwards and squeeze so that a hole forms in the center.

Place the patties on a prepared baking sheet.
Brush open pies with chicken and potatoes with a beaten egg (you can only use yolk) and sprinkle with sesame seeds.
Bake the pies in an oven preheated to 180 ° C for about 35-40 minutes, until golden brown.

Let the finished pies cool slightly – and you can serve.
Bon Appetit!
Also Like
Comments for "Open Pies with Chicken and Potatoes"