Nagisaer (Potato Dough Pies)
by Editorial Staff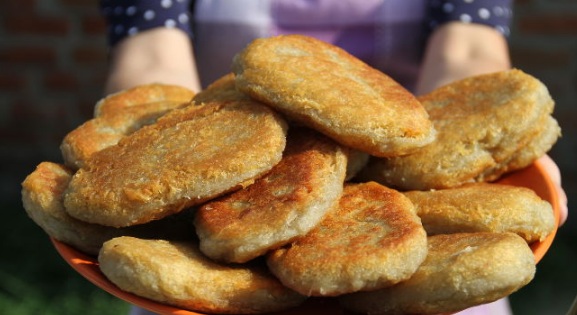 Do you want an unusual dish made from ordinary ingredients? Pies with meat and curd filling, which have potatoes instead of dough. Very juicy and tasty!
Cook: 60 min.
Servings: 8
Ingredients
Potatoes – 3 kg
Salt to taste
Vegetable oil – for frying
For the meat filling:
Minced meat (pork with beef) – 400 g
Large onions – 1 pc.
Salt to taste
Ground black pepper – to taste
For the curd filling:
Cottage cheese (granular or homemade) – 200 g
Egg – 1 pc.
Salt to taste
Directions
Divide the potatoes into two equal parts. Boil one part for mashed potatoes.
Salt the cottage cheese, add the egg. Mix.
Grate the onion in the minced meat. Season with salt and pepper, stir.
Grate the rest of the potatoes on a fine grater. Squeeze the grated potatoes through a sieve.
Allow the resulting liquid to settle for 5-7 minutes, then pour out the liquid – starch will remain at the bottom. Add it back to the squeezed potatoes.
Mash boiled potatoes in mashed potatoes. Mix boiled potatoes and raw potatoes.
Take a portion of the potato "dough", knead it into a cake.
Place the filling in the middle and form a pie.

Fry the resulting potato pies with meat and cottage cheese in vegetable oil, over low heat, until golden brown on both sides.

Put the fried potato dough patties on a paper towel.
The nagisaer potato pies are ready. Enjoy your meal!
Also Like
Comments for "Nagisaer (Potato Dough Pies)"