Apple Mini Yeast Dough Pies
by Editorial Staff
Small yeast dough pies with juicy apple filling and delicate cream filling – incredibly tasty and aromatic!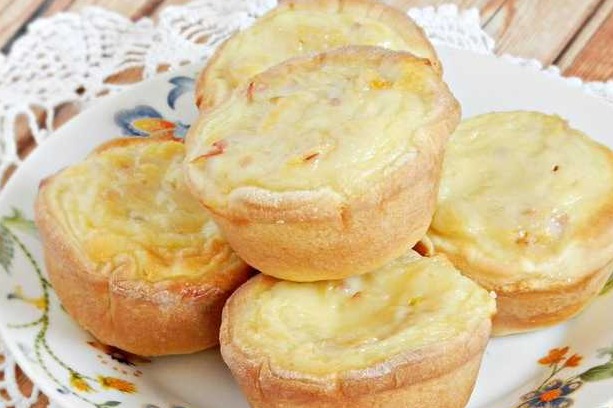 Ingredients
For the dough:
Egg – 1 pc.
Butter – 30 g + for greasing forms
Milk – 90 ml
Sugar – 1 tbsp
Fast-acting yeast – 3-4 g
Flour – 260-300 g
For filling:
Apples – 400 g
Butter – 1 tbsp
Sugar – 1 tbsp
Salt – 1/4 teaspoon
Lemon – 1/3 pc.
To fill:
Egg – 1 pc.
Sour cream – 4 tbsp
Sugar – 1-2 tbsp
Vanilla sugar – 1 teaspoon
Directions
Prepare all required ingredients.
Heat the milk until warm (about 40 degrees).

Break an egg into a bowl, add sugar and salt. Beat with a whisk.
Pour in warm milk, stir.
Mix flour with yeast.
Add flour in portions to the liquid ingredients, stirring with a whisk.
Knead a soft elastic dough with your hands. The dough should not stick to your hands and work surface. Remove the bowl with the dough to rise in a warm place for 1.5 hours.
Grate the apples (without core) on a coarse grater.
Melt butter in a frying pan, add apples and sprinkle with sugar.
Using a fine grater, remove the zest (yellow part) from the lemon and add to the apples. Squeeze the juice out of the lemon there.
Stir and simmer apples over low heat for 5-7 minutes.
To pour, beat the egg with sugar and vanilla sugar.
Add sour cream and stir until smooth and creamy.
Roll out the finished dough into a layer and cut 12 circles from it (according to the number of future pies). The circles should be larger than the dia of the muffin baking dish.
Preheat the oven to 180 degrees.
Lightly grease a muffin baking dish (I have 6 compartments).
(If you have the same shape as mine, then you will have to bake in two steps.)
Lay out the dough pieces in the form of baskets.
Fill the dough baskets with apple filling.

Fill the filling with fill. Place the baking dish in an oven heated to 180 degrees and bake mini pies for 20 minutes.
Remove the form with ready-made mini-pies from the oven, cool slightly.
Carefully remove the cakes from the mold and place on the wire rack.
Delicious mini yeast dough apple pies are ready.
Bon Appetit!
Also Like
Comments for "Apple Mini Yeast Dough Pies"