Meat Pies (Made from Yeast-Free Dough)
by Editorial Staff
Delicious meat pies are made from yeast-free yogurt dough. Pies are baked in the oven. They are good both hot and cold and remain tasty and soft the next day if stored in a tightly closed bag.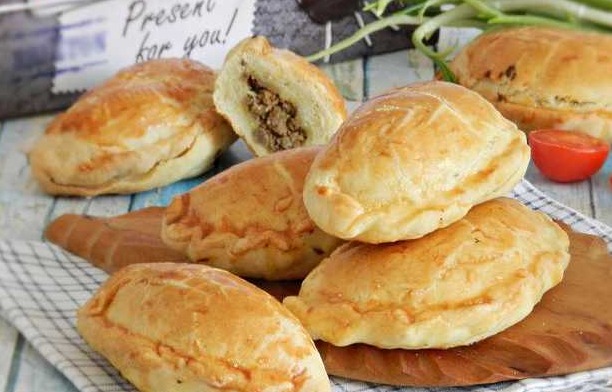 Ingredients
For the dough:
Flour – 3.5 cups (200 ml glass)
Eggs – 2 pcs. (1 yolk and 2 whites)
Natural yogurt, unsweetened (thick) – 100 ml
Vegetable oil (odorless) – 100 ml
Butter (softened) – 120 g
Salt – 0.5 teaspoon
Baking powder – 1.5 teaspoon
For filling:
Minced beef – 300 g
Carrots – 1 pc.
Bulb onions – 1 pc.
Garlic – 1-2 cloves
Fresh parsley – to taste
Salt to taste
Ground black pepper – to taste
To grease the pies:
Directions
Peel and grate the carrots. Peel the onion and cut into small cubes. Fry onions and carrots in a frying pan until soft.
Put the minced meat in the pan. Fry the minced meat together with onions and carrots for 10 minutes, stirring constantly and breaking the minced meat lumps.

Add chopped garlic, salt and black pepper. Cook for 2 minutes.
Finely chop the parsley, add to the minced meat, stir and remove from heat. The meat filling for the pies is ready. Transfer it from the skillet to a clean bowl and cool.
For a yeast-free dough, mix eggs (set aside one yolk to grease the pies), vegetable and butter, yogurt and salt.
Stir so that the mass is homogeneous.
Gradually adding flour and baking powder, knead the dough.
Roll the dough into a ball, cover with a towel and leave for 20 minutes.
Then divide the dough into parts according to the number of patties.
Knead each piece of dough in the palms in a circle, put the filling in the center and fasten the edges of the dough, thus making a pie. The shape of the patties can be any.

Place the meat pies on a baking sheet covered with parchment.
Brush the whipped yolk over the pies.
Bake pies in an oven heated to 180 degrees, about 25 minutes, until golden brown.

Baked pies with meat made from yeast-free yogurt dough, ready.
Bon Appetit!
Also Like
Comments for "Meat Pies (Made from Yeast-Free Dough)"