Choux Yeast Dough Pies
by Editorial Staff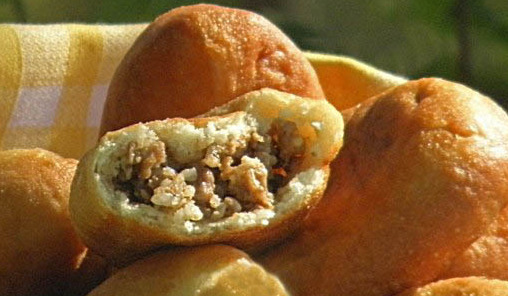 It would seem that the same ingredients, but thanks to a slightly modified technology, no long kneading, and absolutely no proofing is required. And the pies remain fresh even after a day.
Ingredients
Wheat flour / Flour (250 ml each) – 4 stack.
Water (1 cup (250 ml) warm for breeding yeast, 1 cup boiling water for brewing dough) – 2
cups.
Yeast (fresh, can be replaced with dry instant yeast – 10 g) – 50 g
Sugar – 1 tbsp
Salt – 1 teaspoon
Vegetable oil – 3 tbsp
Ready filling
Directions
For the dough, we need 2 glasses of water. We put one on the fire to boil. In another, warm, we dilute the yeast, add salt, sugar, and vegetable oil. Fresh yeast can be replaced with instant yeast.
Sift flour into a separate bowl.
Add yeast mixture and mix quickly. All the flour, of course, will not be absorbed, but that doesn't matter.
Pour a glass of boiling water on top and start kneading the dough. First with a spoon so as not to burn yourself, then with your hands. You can add a little flour if necessary.
The dough should be soft and elastic.
The next step is my personal initiative. Since I love mathematical precision, I weighed the dough on an electronic scale of 50 g each. I got 27 identical balls. However, you can skip this step, and immediately tear off the pieces of dough.
Roll out into thin cakes, lay out the filling, and sculpt pies.
After the last one has been blinded, we immediately put the pan on the fire, heat the vegetable oil well in it, and fry it. Very important! You should not regret the oil, it should reach at least half the pie, or even higher. In this case, the pies will be lush and without a white stripe in the middle.
Enjoy your meal!
Also Like
Comments for "Choux Yeast Dough Pies"