Manzari (Pies with Cottage Cheese and Herbs)
by Editorial Staff
I recommend the manzari recipe – delicious fried pies with cottage cheese, eggs and herbs. Manzari can be made from yeast or unleavened dough.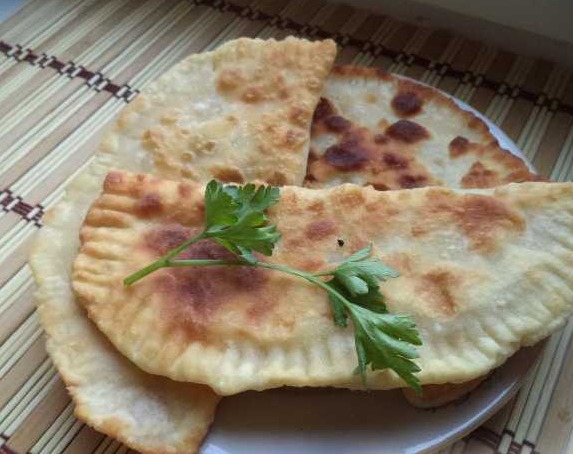 Servings: 12
Cook: 1 hour
Ingredients
For the dough:
Serum (or water) – 0.5 l
Vegetable oil – 1-2 tablespoon. dough spoons + frying oil
Flour – 1 kg
Sugar – 1 tbsp
Salt – 0.5 tbsp
Soda – 0.5 teaspoon
Vinegar 9% – 1 teaspoon
For filling:
Cottage cheese – 500 g
Eggs – 1-2 pcs.
Green onions – 1 bunch
Fresh dill – 1 bunch
Salt to taste
Directions
Sift flour. Make a funnel. Pour in vegetable oil, salt.
Add baking soda, quenched with vinegar.
Pour in whey or water. Stir with a spoon.

Knead a soft dough with your hands. Cover the dough and leave for 15-20 minutes.
Meanwhile, make the filling.
Boil eggs hard-boiled, cool, peel, finely chop.
Wash and chop green onions and dill.
Add eggs and herbs to cottage cheese, salt to taste.
Stir the filling for the pies well.
Divide the dough into tangerine-sized balls. Roll each piece of dough thinly, adding flour. Put the filling on the dough, pinch the edges tightly.

The patties can be shaped in any shape.
Preheat a frying pan, pour in vegetable oil. Put the pies in hot oil.
Fry the manzari over medium heat until golden brown on both sides.
So fry all the pies, add oil as needed.

Manzari (pies with cottage cheese and herbs) are ready.
Bon Appetit!
Also Like
Comments for "Manzari (Pies with Cottage Cheese and Herbs)"