Fried Cottage Cheese with Herbs
by Editorial Staff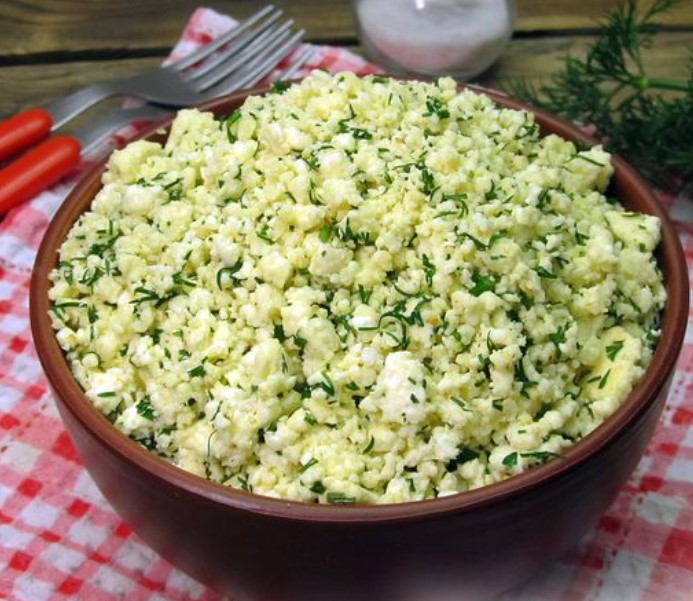 An unusual dish from cottage cheese, which is not difficult to prepare, is fried cottage cheese with herbs. In consistency, it is similar to processed cheese with grains, the taste is richer than that of cottage cheese. You can eat such fried cottage cheese just like that, or you can use it as a filling for pies or make various sandwiches with it – it goes very well with cucumbers or tomatoes.
Ingredients
Cottage cheese (fat content from 4%) – 250 g
Egg – 1 pc.
Fresh dill – 10 g
Salt to taste
Butter (for frying) – 20 g
Directions
We prepare products according to the list.
Stir with a whisk or fork until smooth.
Add cottage cheese.

Grind cottage cheese with egg until smooth. You can do this with a fork or potato grinder.
Melt the butter in a skillet over medium heat.
Put the curd-egg mixture in the pan.
Stir frequently and fry the curd over medium heat for about 7 minutes. At first, whey will start to stand out from the cottage cheese – we continue to fry until it evaporates and the cottage cheese acquires a creamy hue.

We wash the dill, dry it and chop finely with a knife.
Add chopped dill to the fried cottage cheese and salt to taste.
Stir, immediately remove from heating.
We transfer the finished fried cottage cheese with herbs to a plate and serve.

Enjoy your meal!
Also Like
Comments for "Fried Cottage Cheese with Herbs"