Buns with Cottage Cheese, Cheese and Herbs
by Editorial Staff
The buns according to this recipe are tender and fragrant, they have a lot of juicy filling and a thin layer of dough, and the original appearance immediately attracts attention! Such buns are delicious when they are immediately out of the oven and completely cooled down. They can be served as a snack, and with vegetables, and as an addition to first courses.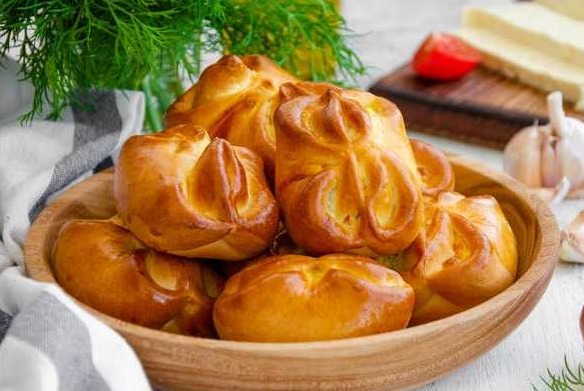 Servings: 13
Cook: 2 hours
Ingredients
For the dough:
Milk (warm) – 125 ml
Vegetable oil – 50 ml
Flour – 250 g (2 cups with a capacity of 200 ml)
Sugar – 1/2 tbsp
Fresh pressed yeast – 10 g
or dry fast-acting yeast – 4 g
Salt – 1/4 teaspoon
For filling:
Cottage cheese – 150 g
Cheese – 80 g
Egg – 1 pc.
Dill – 4 branches
Garlic – 3 cloves
Salt – 1/4 teaspoon (to taste)
Pepper – 1/4 teaspoon (to taste)
To grease buns:
Egg – 1 pc.
Vegetable oil – for greasing the baking sheet (if there is no baking paper)
Directions
First of all, add sugar to warm milk (the temperature should not be higher than 40 ° C) and crush the yeast. Stir until the yeast is completely dissolved.
In the bowl where you will knead the dough, sift the flour and add salt to it. Stir.
Make a depression in the center of the flour. Pour the yeast solution and vegetable oil into it.

Knead the dough. Once all the ingredients are collected in a ball, put the dough on a work surface and knead for 7-10 minutes until a smooth and soft ball is obtained.
Return the dough to the bowl, cover with a damp towel or plastic wrap and leave warm to rise for 1 hour. The dough should double in size.
Prepare the filling: grate the cheese.
Finely chop the dill and garlic cloves.
In a bowl, combine cottage cheese, cheese, dill, garlic, egg, salt and pepper. Stir.
Put the matched dough on a work surface and divide into portions (I made 30 g portions).
Roll each piece of dough into a ball.
Line a baking sheet with baking paper or brush with a thin layer of vegetable oil.
Form the buns: roll each ball of dough into a circle, put a spoonful of the filling in the center.
Connect the opposite edges of the dough over the filling.
Also connect the remaining side parts.
You should have a square with "ears".

Connect the ears in pairs.
Place the buns on a baking sheet at a distance from each other.
Leave the buns for 15 minutes to rise, and in the meantime, preheat the oven to 180 ° C.
Brush the matched buns with a scrambled egg.
Bake buns with cottage cheese and herbs in a preheated oven for about 20-25 minutes until they are rich golden brown.
Buns with cottage cheese and herbs are ready! Bon Appetit!
Also Like
Comments for "Buns with Cottage Cheese, Cheese and Herbs"