Baked Potatoes with Cottage Cheese, Tomatoes and Herbs
by Editorial Staff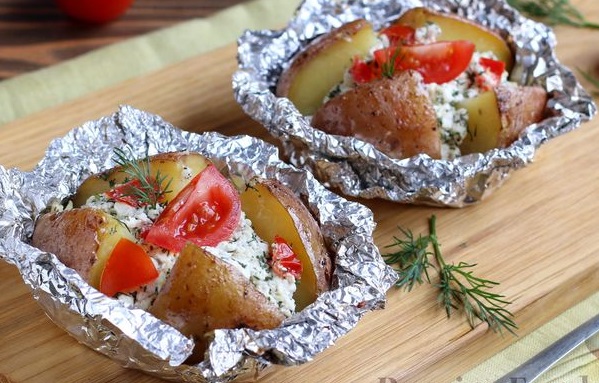 The recipe for a beautiful dish of potatoes with a portioned serving – potatoes baked in foil with a filling of cottage cheese, tomatoes, and herbs. Baked potatoes are much tastier and more flavorful than just boiled ones. In addition, such a side dish will also decorate the table.
Ingredients
Potatoes (large) – 4 pcs.
Cottage cheese – 180 g
Cherry tomatoes – 2 pcs.
Fresh dill – 5 branches
Vegetable oil – 1 tbsp
Garlic – 2 cloves
Salt to taste
Ground black pepper – to taste
Directions
Before preparing baked potatoes with cottage cheese, tomatoes and herbs, prepare all the necessary products. Turn on the oven to heat up to 180 degrees.

Wash the potatoes well under running water and dry them with a napkin. Coat the potatoes with vegetable oil, sprinkle with salt and ground pepper.
On top of each potato, we make a cross-shaped incision so that after baking, open the potato and put the filling in it. We put each tuber on a foil square. Wrap the potatoes tightly with foil.
Place the potatoes in foil on a baking sheet. We bake the potatoes in the oven at 180 degrees for about 50 minutes, until tender.
In the meantime, the potatoes are being baked, finely chop the dill and garlic. Cut the tomatoes into cubes, removing the seeds with liquid.
In a bowl, combine cottage cheese, chopped dill, garlic and tomatoes. Salt and pepper to taste.
When the potatoes are baked, we take them out of the oven. Do not turn off the oven! Carefully unfold the foil so as not to burn yourself. We open each potato in cuts. Put the curd filling inside the potatoes. We send the potatoes with cottage cheese, tomatoes and herbs back to the oven for another 10 minutes.

Then we take out the potatoes from the oven and can be served to the table. It is very convenient that potatoes are baked in foil because in it they can be served to the table. Alternatively, potatoes prepared in this way can be covered with foil on top again, folded into a container and taken to a picnic in nature, this is very convenient, I advise!
Also Like
Comments for "Baked Potatoes with Cottage Cheese, Tomatoes and Herbs"