Zucchini Casserole with Cottage Cheese, Cheese and Herbs
by Editorial Staff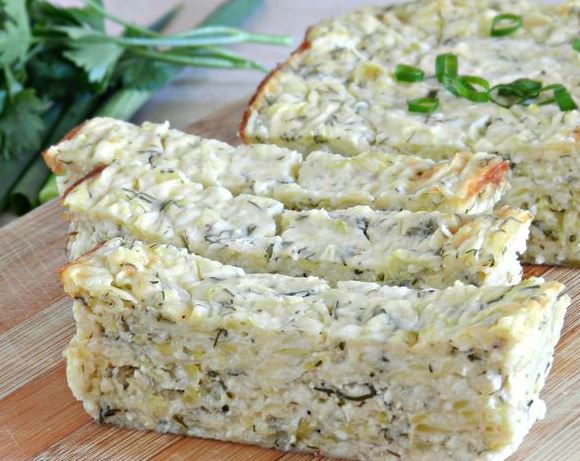 Zucchini baked with cottage cheese, cheese and herbs is a delicious vegetable dish that is most popular in the season of young zucchini.
Ingredients
Zucchini – 370 g
Cottage cheese – 200 g
Hard cheese – 50 g
Egg – 1 pcs.
Garlic – 2 cloves
Green onions – 2 pcs.
Fresh dill – 6-8 branches
Ground black pepper – to taste
Salt to taste
Directions
Use young zucchini with soft seeds. Wash zucchini, peel. Grate the zucchini on a coarse grater. Sprinkle the grated zucchini with salt and leave for 5 minutes. Then squeeze the zucchini, drain the juice.
Grate the cheese on a fine grater. Finely chop the dill greens without the stems. Finely chop the green part of the onion. Peel the garlic.

Add the egg, black pepper, and garlic to the zucchini passed through a press. Mix. Add green onions and dill. Add the curd and stir until smooth. Add cheese. Mix well. If necessary, add salt and pepper.
Preheat the oven to 190 degrees. Prepare a baking dish. I used a metal mold, covered the bottom with parchment and a little oil. Put the curd-zucchini mass in a prepared form. Bake zucchini with cottage cheese, cheese, and herbs in the oven for 30-40 minutes.
Then remove the zucchini casserole from the oven and cool slightly in the form.
Delicious zucchini casserole with cottage cheese, cheese, and herbs is ready.
Enjoy your meal.
Also Like
Comments for "Zucchini Casserole with Cottage Cheese, Cheese and Herbs"