Corn Casserole with Cottage Cheese
by Editorial Staff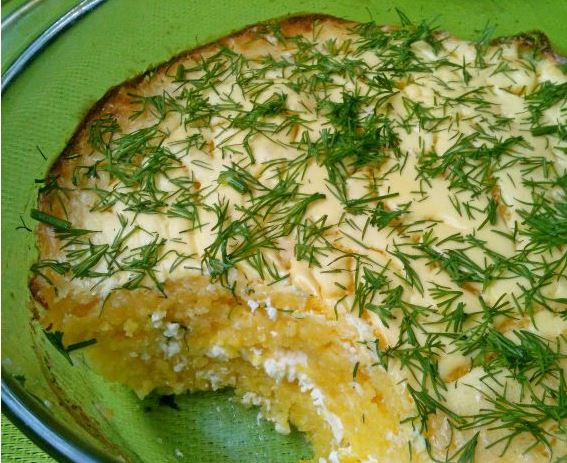 Call this dish what you want: you can use a curd casserole with corn grits, or you can also a corn casserole with cottage cheese. The main thing is tasty and satisfying!
Cook: 1 hour 30 minutes
Servings: 6
Ingredients
Corn groats – 1.5 cups
Water – 2.5 cups
Cottage cheese – 300 g
Sour cream – 0.5 cups
Vegetable oil – 3 tbsp
Eggs (yolk) – 2 pcs.
Dill greens – 1 bunch of Parsley – 1 bunch
Salt – 2 teaspoon
Directions
Rinse the groats, drain. To boil water. Salt it. Pour cereals into boiling salted water.
Add vegetable oil (2 tablespoons) and cook over low heat. When the liquid is absorbed into the cereal (after 15-20 minutes), put the pan in the oven for 30 minutes, or cook the porridge in a water bath.

Dress the yolks. Mix one yolk with sour cream and a pinch of salt. Mix the second yolk with cottage cheese and a pinch of salt.
Turn on the oven. Grease refractory dishes with oil (1 tbsp), put half of the porridge.

On it is a layer of cottage cheese, pounded with one yolk. Cover with the rest of the porridge. Flatten.
Pour sour cream mixed with other yolk and salt, place in a moderately heated oven (180 ° C) for 20 minutes. Chop the dill.
Sprinkle the prepared corn porridge with cottage cheese casserole with dill. Serve the curd corn casserole with fresh vegetable salad.
Also Like
Comments for "Corn Casserole with Cottage Cheese"