Cottage Cheese Casserole (no Flour)
by Editorial Staff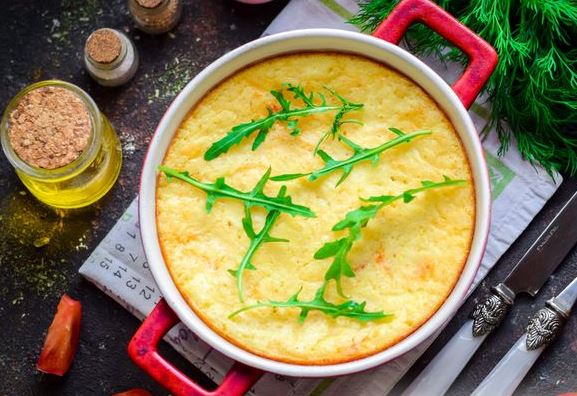 Amazing recipe for cottage cheese casserole with paprika and dried garlic. By adding starch, the casserole melts in the mouth, similar to a soufflé. Delicate cheesy taste in every spoon! Cooking such a casserole is easy: just mix everything and send it to the oven.
Cook: 50 minutes
Servings: 4
Ingredients
Cottage cheese 5% – 150 g
Hard cheese – 150 g
Eggs – 2 pcs.
Kefir – 100 ml
Potato starch – 3 tbsp
Dry garlic – 1/2 teaspoon
Ground paprika – 1 teaspoon
Baking powder – 1/2 teaspoon
Salt to taste
Ground black pepper – to taste
Vegetable oil (for lubricating the mold) – 1 tbsp
Directions
Put cottage cheese in a bowl, knead a little. Pour kefir next to the curd. Drive-in eggs.

Mix all the ingredients with a hand blender – just a few minutes. Pour in starch and baking powder next. Mix.
Grate hard cheese. Add salt, pepper, dry garlic, and paprika. Stir with a tablespoon.

Grease a baking dish with oil, put the curd-cheese mass there, and send it to the oven. Cook curd-cheese casserole with spices at 180 degrees for 25-30 minutes.
After a while, cool the casserole slightly. Decorate the casserole with fresh herbs, add sour cream and fresh vegetables if desired, and serve.
Bon Appetit!
Also Like
Comments for "Cottage Cheese Casserole (no Flour)"