Cottage Cheese and Pumpkin Casserole
by Editorial Staff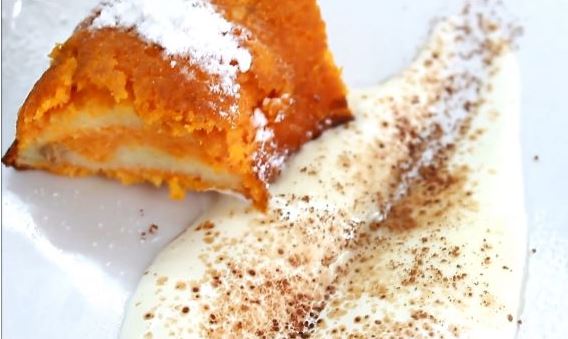 Delicious, proven recipe for cottage cheese-pumpkin casserole with raisins and lemon zest, aromatic pastries with cottage cheese. Recipes with photos show that this is an easy-to-prepare, fragrant, and tender pumpkin and cottage cheese casserole. Pumpkin baked goods – simple recipes you will love.
Cook: 20 minutes
Servings: 6
Ingredients
Cottage cheese (low-fat) – 300 g
Pumpkin – 600 g
Butter – 50 g
Eggs – 2 pcs.
Sour cream – 2 tbsp
Sugar – 7 tbsp
Semolina – 6 tbsp
Raisins – 100 g
Lemon – 1 pc.
Vanillin – 1 g
Directions
Prepare the ingredients for the cottage cheese and pumpkin casserole. Peel the pumpkin, cut it into cubes.

How to cook pumpkin-curd casserole:
Bake the pumpkin in the oven at 180 degrees for 40 minutes. Then let cool to room temperature.
We make two parts of the pie – cottage cheese and pumpkin.
Mix cottage cheese with sugar (4 tablespoons).
Add semolina (3 tablespoons), 0.5 g vanillin, sour cream (2 tablespoons), and 1 egg.

Kill the whole mass with a blender or grind through a sieve until smooth.
Add raisins, stir.
For pumpkin mass, place the finished chilled pumpkin in a blender bowl or food processor.
Add 1 egg, lemon zest, grated on a fine grater, 3 tablespoon. semolina, 3 tablespoon. sugar, 0.5 g vanillin. Kill the whole mass. (If you don't have a blender or food processor, use a puree maker and grind through a sieve.)
Put both parts (cottage cheese and pumpkin) in the refrigerator for 30 minutes.

Then grease the baking dish with butter. We spread the pumpkin mass first, then the curd mass.
Next – pumpkin and curd again, creating layers.
Distribute the remaining pumpkin mass on top.
Put the pumpkin and cottage cheese casserole in the oven and bake at 180 degrees for 50 minutes.
The pumpkin curd casserole is ready.
Bon Appetit everyone!
Also Like
Comments for "Cottage Cheese and Pumpkin Casserole"