Cottage Cheese Casserole with Pumpkin and Banana
by Editorial Staff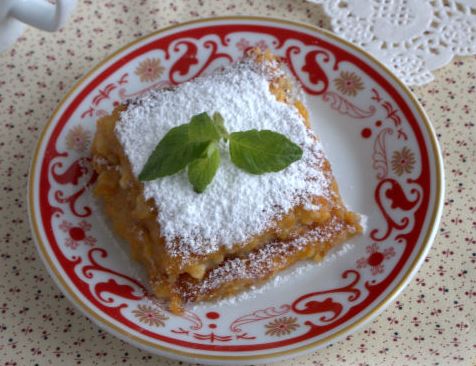 Curd casserole with pumpkin and banana turns out to be super-tender and very aromatic. Banana goes well with pumpkin pieces, making the dish bright and original. Cooking a casserole in a multicooker is simple and convenient.
Cook: 1 hour 10 minutes
Servings: 6
Ingredients
Cottage cheese – 300 g
Pumpkin – 300 g
Banana – 1 pc.
Egg – 1 pc.
Cream – 50 ml
Sugar – 100 g
Semolina – 100 g
Baking powder – 0.5 teaspoon
For decoration (optional):
Powdered sugar
Fresh mint
The baking time of the casserole depends on the power of the multicooker and may differ by about 10 minutes. Pumpkin-banana casserole retains its taste the next day, the main thing is to put the casserole pieces in a food container and store them in a cool place.
Directions
We peel the pumpkin from the thick peel, grind it in a blender or on a grater with fine holes.
Peel the banana, grind in a blender and add to the pumpkin.
We mix all the ingredients, add sugar to the mass.
We introduce a raw egg, cream, baking powder, and semolina.
In the next step, add cottage cheese.
Mix all ingredients until smooth. We are waiting for 20 minutes.

We pour the workpiece into the multicooker bowl, having previously greased it with oil or covered with baking paper. We turn on the "Baking" mode, cook pumpkin casserole in a slow cooker for 40 minutes. After the signal, let the pumpkin-curd casserole cool down.
The casserole in the slow cooker is ready! Cut the cooled pastries into portions, sprinkle them with powdered sugar.
Decorate the pumpkin-curd casserole with a sprig of fresh mint.
Serve cottage cheese casserole with pumpkin and banana with berry jelly, milk, or cappuccino. You can serve a casserole with whipped cream, homemade sour cream, or a scoop of vanilla ice cream.
Bon appetit, everyone!
Also Like
Comments for "Cottage Cheese Casserole with Pumpkin and Banana"