Cottage Cheese Casserole with Bananas and Almonds (in the Microwave)
by Editorial Staff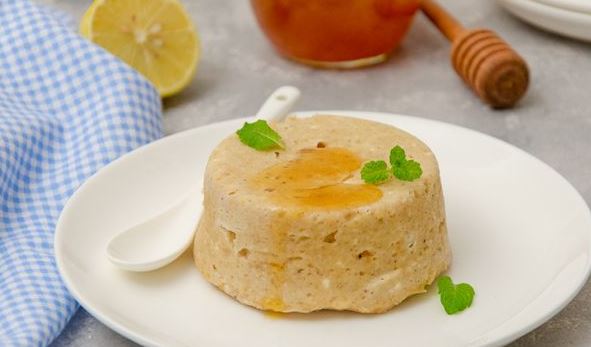 Cottage cheese casserole with bananas and almonds turns out to be tender, tasty, healthy, and moderately sweet. Bananas give the casserole not only a rich aroma and flavor but also sweetness. Therefore, be sure to choose ripe fruits for their preparation.
Cook: 15 minutes
Servings: 3
Ingredients
Cottage cheese 9% fat – 200 g
Bananas (ripe) – 200 g (peeled weight)
Egg – 1 pc.
Almonds – 50 g
Corn starch – 2 teaspoon (with a slide)
Vanilla sugar – 1 teaspoon
Lemon (zest) – 1 pc.
Butter – for lubricating molds
For filing (optional):
Honey – to taste
Mint – 2-3 leaves
Directions
Peel the almonds first. You can skip this step if you wish, but peeled almonds are more delicate and sweeter in taste. Pour boiling water over the nuts and leave for 5 minutes.
Drain the water and remove the skins from the nuts. Place the peeled nuts on paper towels to remove any moisture. Put the nuts in a skillet and fry them over low heat, stirring occasionally, for about 7-10 minutes.
Grind the fried nuts into small crumbs. Peel the bananas, place them in a bowl, and mash them in mashed potatoes. You can do this with a fork, pusher, or hand blender.
Remove the zest from the lemon (only the bright yellow part). Add cottage cheese, vanilla sugar, and lemon zest to the mashed banana.

Mix thoroughly until smooth. At this stage, you can first use a hand blender, and then mix everything with a whisk or spoon. Add egg, starch, and chopped almonds. Stir again.
Since the casserole will cook in the microwave, prepare suitable molds: silicone, glass, or ceramic. If there are no portioned bowls, then you can take one large form (no more than 1 liter in volume).
Grease the molds with a thin layer of butter and fill with the curd-banana mass.
Place the tins in the microwave and cook the casserole at 800 watts for 5 minutes. Let the casserole cool slightly and place it on a plate. When serving, this casserole can be supplemented with honey and mint. Cottage cheese casserole with bananas and almonds is ready.
Bon Appetit!
Also Like
Comments for "Cottage Cheese Casserole with Bananas and Almonds (in the Microwave)"