Cottage Cheese Casserole with Dried Apricots (in the Microwave)
by Editorial Staff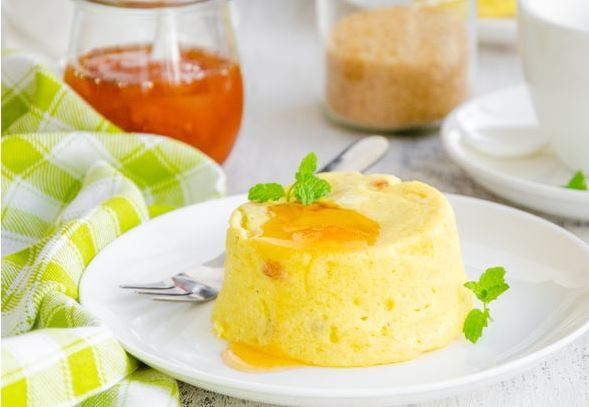 Delicious and tender curd casserole with dried apricots is an excellent healthy breakfast, afternoon snack, or dessert. To prepare such a casserole, you need a microwave, a small amount of food, and very little time.
Cook: 1 hour 20 minutes
Servings: 2
Ingredients
Cottage cheese 9% fat – 200 g
Dried apricots – 50 g
Sugar – 30 g (or to taste)
Semolina – 30 g
Eggs (small) – 2 pcs.
Vanilla sugar – 1/2 teaspoon
Butter for lubricating molds – 10 g for lubricating molds
For the filling (optional):
Jam (or sour cream, honey) – to taste
Directions
In a bowl, combine cottage cheese, eggs, sugar, and vanilla sugar. Punch with a hand blender until smooth. Add semolina.

Mix thoroughly. Leave the mass for 15-20 minutes for the semolina to swell. Pour dried apricots with warm water for 5 minutes. Drain the water, and dry the dried apricots slightly.
Cut dried apricots into small pieces. If you wish, you can replace dried apricots with other favorite dried fruits or berries. Add chopped dried apricots to the curd mass. Stir.
Prepare baking dishes in the microwave. I used 200 ml ceramic molds, but you can use silicone or glass molds instead, or you can use regular cups. Lubricate the molds with a thin layer of butter (silicone molds need not be greased). Distribute the curd mass into the tins.
Send the molds to the microwave and cook for 3-5 minutes at 800W (cooking time will depend on the size of the molds used). Without opening the microwave, leave the casserole in it for another 2-3 minutes after the end of cooking.
Remove the curd casserole from the microwave, let cool slightly and remove from the mold. Delicious and tender curd casserole with dried apricots is ready! Serve it with your favorite jam, sour cream, or honey.
Enjoy your meal!
Also Like
Comments for "Cottage Cheese Casserole with Dried Apricots (in the Microwave)"