Sweet Omelet with Cottage Cheese and Dried Apricots
by Editorial Staff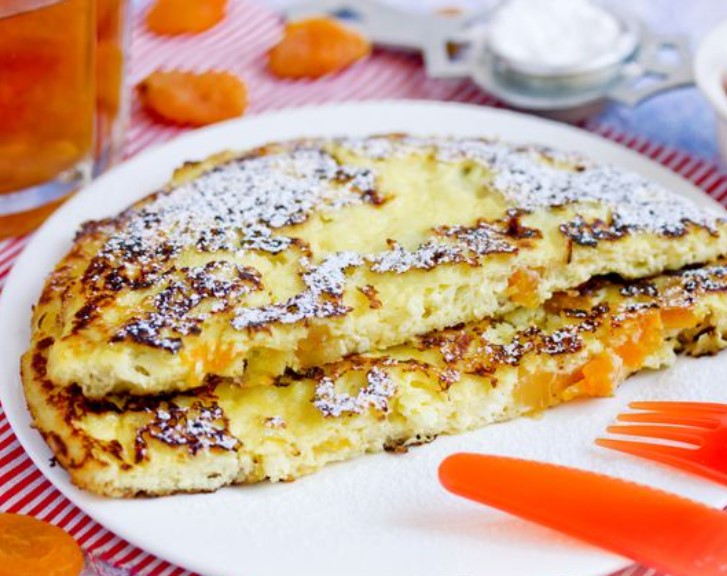 Yes, omelet can be sweet! Especially if it is with cottage cheese and dried apricots. Even those who do not particularly like cottage cheese will eat such an omelet, although the benefits of this product are beyond doubt. And even with dried apricots – doubly useful! Lovely breakfast for adults and children!
Cook: 15 mins
Serving: 1
Ingredients
Cottage cheese – 100 g
Eggs – 2 pcs.
Dried apricots – 40 g
Sugar – 1 tbsp without slide
Milk – 2-3 tbsp
Vanillin – 1 pinch
or vanilla sugar – to taste
Butter – 2 teaspoon
Powdered sugar (optional) – to taste
Directions
Prepare all the necessary ingredients for making a sweet omelet with cottage cheese and dried apricots.

Transfer the curd to a bowl and mash with a fork.
Add sugar and vanillin (or vanilla sugar) to the curd. Stir or grind the curd mass again with a fork.
Beat eggs into another bowl, pour milk.
Shake eggs and milk with a fork until smooth.
Pour the omelet mixture into a bowl of curd.
Cut dried apricots into small pieces.
Add dried apricots to the curd mixture.

Stir.
Heat a piece of butter in a skillet. Do not heat the pan too much, just heat it well. Pour the curd and egg mixture into the pan, smooth the surface.
Fry an omelet with cottage cheese and dried apricots for 2 minutes over medium heat. Then reduce the heat to low, cover the pan with a lid and cook the omelet for 5 minutes until its surface grasps.
Turn the omelet to the other side with a dexterous movement of the spatula and fry over medium heat for another 2 minutes.

Sweet omelet with cottage cheese and dried apricots is ready. Transfer the omelet to a plate and serve. Sprinkle the omelet with powdered sugar if desired.
Such curd omelet will be especially liked by lovers of cheese cakes.

Enjoy your meal!
Also Like
Comments for "Sweet Omelet with Cottage Cheese and Dried Apricots"