Carrot Sweets with Dates, Dried Apricots, and Raisins
by Editorial Staff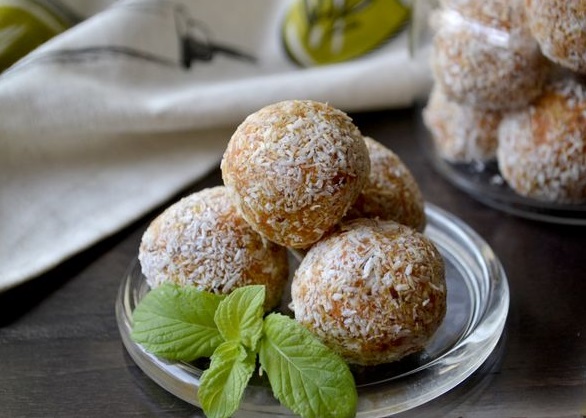 Healthy chocolates made from fresh carrots, dried fruits, and coconut flakes are a great alternative to store-bought chocolates. The sweets are sweet, juicy, and very tasty. You can not deny yourself such a delicacy!
Ingredients
Carrots – 250 g
Dates with seeds – 100 g
Dried apricots – 50 g
Raisins – 50 g
Coconut flakes – 50 g
Ground cinnamon – 1 teaspoon
Directions
Prepare the food you need. Peel and wash the carrots. Wash dates, dry apricots, and raisins and cover with cool water for half an hour, then drain the water.

Grate the carrots on a fine grater.
Remove seeds from dates.
Chop dates, raisins, and dried apricots in a way convenient for you: in a food processor, in a blender, or in a meat grinder through a wire rack with the smallest holes.
Put grated carrots, coconut, and cinnamon in a bowl with chopped dried fruits. Leave about 2-3 tablespoon. tablespoons of coconut for rolling sweets.
Stir the ingredients to form a homogeneous plastic mass.
Roll into balls slightly smaller than a walnut with wet hands.
Then roll each ball on all sides in the coconut.
Place the candies on a flat plate and refrigerate for at least 1 hour.

Cook and eat healthy and tasty sweets with pleasure!
Also Like
Comments for "Carrot Sweets with Dates, Dried Apricots, and Raisins"