Pilaf with Dried Apricots, Raisins and Prunes
by Editorial Staff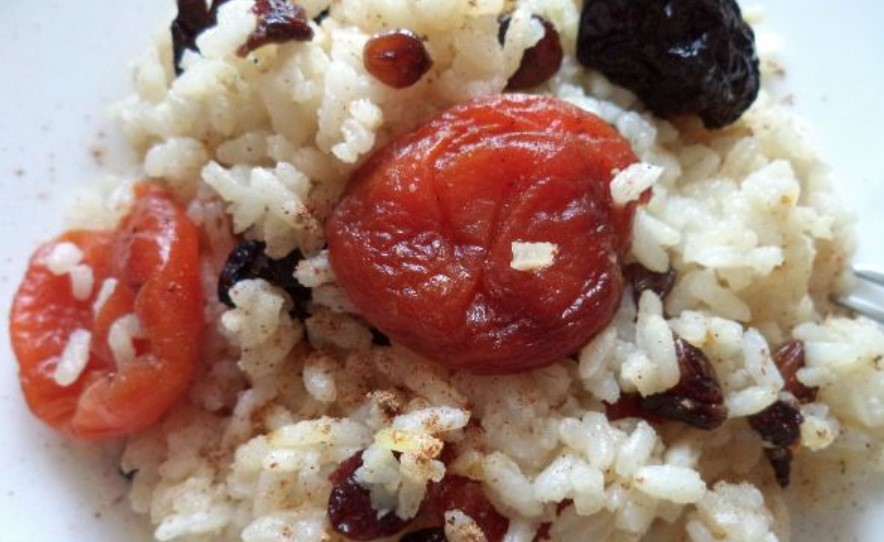 Light and satisfying lean pilaf with prunes and dried apricots and raisins will be appreciated not only by adherents of healthy and vegetarian food. Thanks to the wonderful taste of this dish, all members of your family will like it, and, of course, children especially love sweet pilaf with raisins, dried apricots, and prunes. This recipe for pilaf with dried apricots will also come in handy on fast days.
Cook: 1 hour 10 mins
Servings: 6
Ingredients
Rice – 2 cups
Dried apricots – 0.5 cups
Raisins – 0.5 cups
Prunes – 0.5 cups
Butter (or ghee) – 100-150 g
Dried cloves – 2-3 pcs. (taste)
Cinnamon – 0.25 teaspoon (to taste)
Sugar – 2-3 tbsp (to taste)
How to cook pilaf with dried apricots, prunes, and raisins:
Directions
Rinse the rice lightly and soak for 0.5-2 hours in warm salted water (1 teaspoon). Then drain the water and rinse the rice thoroughly.
Boil 3-4 liters of water, salt (1 teaspoon).
Put rice in boiling water and cook for 8-12 minutes, stirring and not allowing to sink to the bottom for a long time.
Throw the finished rice in a colander and rinse with cold water (the finished rice should not stick together).
Rinse dried fruits in hot water.

Preheat a frying pan, add butter. Melt. Put dried fruits in a frying pan with heated oil, add sugar, cloves, and lightly fry, stirring occasionally over medium heat (2-3 minutes).
Put ready-made dried fruits in the folding pilaf, mix rice with raisins, prunes, and dried apricots. Pilaf with dried apricots, raisins, and prunes is ready.

Serve pilaf with prunes, raisins, and dried apricots on a platter, drizzle with oil and sprinkle with cinnamon.
Enjoy your meal!
Also Like
Comments for "Pilaf with Dried Apricots, Raisins and Prunes"