Corn Muffins with Dried Apricots
by Editorial Staff
Muffins with corn flour and dried apricot pieces are cooked in butter, completely without adding liquid. The dough is dense, moist – classic muffin. I also like this pastry for its bright color. Finished corn muffins are coated with turmeric sugar icing.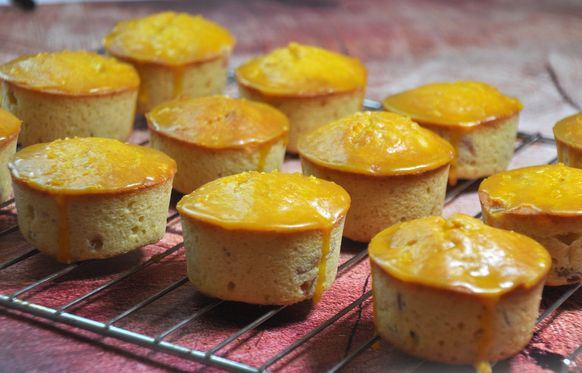 Ingredients
Butter – 150 g for dough + 20 g for greasing molds
Eggs – 3 pcs.
Dried apricots – 150 g
Sugar – 150 g
Corn flour – 100 g
Wheat flour of the highest grade – 70 g
Baking dough – 1 teaspoon flat
*
For glaze:
Ground turmeric – 1 teaspoon without a slide
Powdered sugar – 50 g
Vanillin – 1/4 teaspoon
Water or lemon juice – 20-25 ml
Directions
Prepare food. Remove eggs and butter from refrigerator and leave at room temperature for about 1 hour. The dough cooks quickly, so when the butter becomes soft, turn on the oven immediately to preheat to 180 degrees. And you can start making the dough.
Rinse dried apricots and cut into small pieces.
Whisk the soft butter with sugar for about 1 minute.
Add eggs and beat until smooth for about 2 minutes.
Enter dried apricots, mix with a spoon.
Add sifted cornmeal.
Stir with a spoon.
Then add the sifted wheat flour and baking powder.

Stir the dough.
Place the dough in oiled muffin tins, 2/3 full. I greased the molds with oil just in case, but if you are 100% sure of your shape, you can skip this.
Place the muffins in a preheated oven and bake at 180 degrees for about 30 minutes. Check the readiness of the muffins with a sharp wooden stick – it should come out of the dough clean. Let the prepared muffins cool in the tins for about 5 minutes, and then place on the wire rack to cool the muffins a little more.
In the meantime, prepare the frosting. Combine the icing sugar, vanillin and turmeric. Begin to introduce a teaspoon of water (or lemon juice), stirring the mass well. The glaze should look like low-fat sour cream.
Brush still warm corn muffins with dried apricots with cooked sugar icing with turmeric and let them cool completely.
Also Like
Comments for "Corn Muffins with Dried Apricots"