Corn Muffins with Cheese
by Editorial Staff
Corn muffins are cooked in buttermilk (sour milk) with the addition of corn flour and cheese.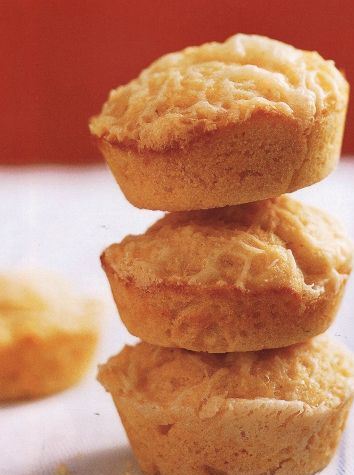 Ingredients
Buttermilk or sour milk – 2/3 cup
Parmesan (grated) – 30 g (0.25 cups)
Wheat flour – 130 g (about 1 glass)
Corn flour – 2/3 cup
Sugar – 2 tbsp
Baking powder – 2 teaspoon.
Salt – 0.25 teaspoon
Odorless vegetable oil – 3 tbsp
Egg whites (slightly beaten) – 2 pcs.
Vegetable oil for lubricating molds
Directions
Turn on the oven to preheat to 210 degrees.
In a medium bowl, combine all flour, sugar, baking powder and salt. Collect flour with a slide and make a depression in the center. In a separate bowl, combine the buttermilk (sour milk), vegetable oil and egg whites. Insert this mixture into a well in the flour and mix well.
Grease 10 tins for corn muffins with vegetable oil, put dough into tins and sprinkle with cheese. Place the pieces in the preheated oven and bake the corn muffins for about 10 minutes, until a clean wooden stick.
Remove the finished corn muffins from the molds immediately and leave to cool on the wire rack. Serve the corn muffins warm.
Also Like
Comments for "Corn Muffins with Cheese"