Kissel from Dried Apricots
by Editorial Staff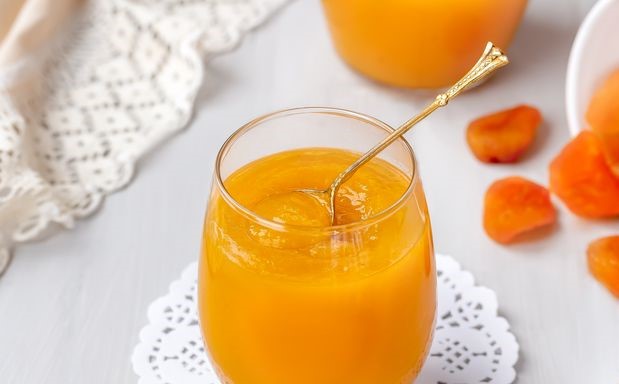 Thick, fragrant and sweet dried apricot jelly is a piece of summer that is available to us at any time of the year! Only four ingredients and a minimum of preparation time, and you get both a sweet treat and a warming, natural drink "in one bottle". Spoil your loved ones!
Cook: 50 mins
Servings: 2
Ingredients
Dried apricots – 150 g
Sugar – 30 g + to taste
Potato starch – 20 g
The citric acid (optional) – 1 small pinch
Water – 1 l + 125 ml for dissolving starch
Directions
Prepare foods from the list.
Rinse dried apricots thoroughly in hot water and discard on a sieve.

Pour 1 litre of water into a saucepan, set to maximum heat and bring to a boil. Add dried apricots.
Reduce heat to low and, stirring occasionally, cook dried apricots for about 30-35 minutes until they swell and soften.
Then remove from heat and cool the dried apricots directly in water until warm (so that the blender bowl does not crack).
Send the softened dried apricots and 3-5 tbsp of broth in a blender bowl.

Whisk on high speed for about 2-3 minutes, until smooth, smooth.
Return the resulting dried apricot puree back to the pan and mix with the remaining broth. Add sugar to taste. I add 30 g. To accentuate the sweetness, I can also add a small pinch of citric acid.
Place the pot on maximum heat, stir and bring the mixture to a boil again.
Add 125 ml of cold water to the starch. Stir well so that no lumps remain.
Reduce heat to low and, stirring continuously with a whisk, pour in the starch dissolved in water in a thin stream.
While continuing to stir, bring the mixture to a boil and simmer for about 2 more minutes, until thickened.
Turn off the heat and sprinkle the surface of the finished dried apricot jelly with 1-2 pinches of sugar so that a film does not form on the surface during the cooling process. Serve the jelly warm or chilled.
Dried apricot kissel is ready! Enjoy!
Also Like
Comments for "Kissel from Dried Apricots"