Cheesecakes with Pumpkin, Semolina and Dried Apricots
by Editorial Staff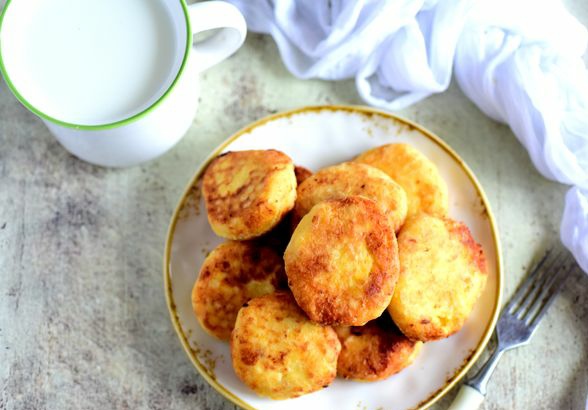 Appetizing, tender syrniki with pumpkin, semolina and dried apricots will please even the smallest taster. They are easy to prepare and have a very sunny look.
Ingredients
Cottage cheese – 300 g
Chocolate – 40 g
Egg – 1 pc.
Sour cream – 2-3 tbsp
Semolina – 1 tbsp
Corn starch – 1 teaspoon
Powdered sugar – 1-2 teaspoon
Vanillin – 1 pinch
Vegetable oil – for lubricating forms
*
For filing (optional):
Sour cream
Jam
Condensed milk
Directions
Peel the pumpkin: remove the peel and remove the inner seed section. Weigh the required amount of pulp and grate on a medium grater. Put cottage cheese in a bowl and add chopped pumpkin. Let's beat the egg. Wash dried apricots thoroughly and cut into small pieces. Add dried apricots to a bowl with cottage cheese and pumpkin. Add 3 tablespoons flour, semolina, sugar and salt. Mix the whole mass until smooth. Set the dough aside for 15 minutes – the semolina should swell during this time.
Let's moisten our hands with water and start forming blanks for future cheesecakes. Thoroughly roll each piece in the remaining flour. Heat a frying pan with vegetable oil over medium heat. Lay out the cottage cheese pan and fry it on both sides (3 minutes on each side) until a light golden crust appears. Put the prepared cheese cakes on a plate and serve.
Bon Appetit!
Also Like
Comments for "Cheesecakes with Pumpkin, Semolina and Dried Apricots"